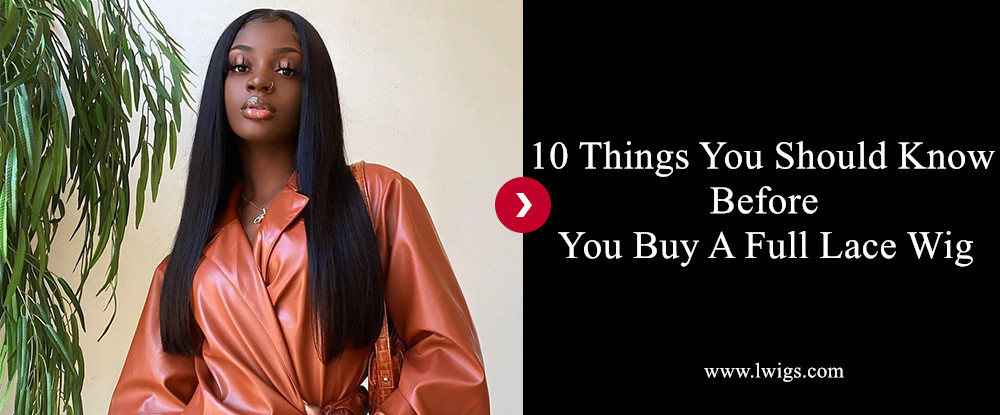 We all like full lace wigs because they can give us the most realistic appearance like hair growing from the scalp. What's more, full lace wigs are more versatile, they can be either worn in a ponytail or a bun and still look realistic, considering the fact that there is lace all around the full cap. If you are new to lace wigs, especially full lace wigs, there are a few things you need to know before making a purchase. So today let's find out below.
1. You do not need to have hair to wear wigs.
If you want to go for a big chop or shave off wearing a wig, do it, girl! You don't have to have hair to get it for that. The wig would be pretty secure. At the same time, your hair will flourish underneath.
2. A full lace wig can be parted anywhere.
You can part your full lace wig as you like because a full lace wig can be parted anywhere, whatever it's a middle part or a side part.
3. Difference between full lace and glueless full lace.
A full lace wig is all lace and all hair, so you have to glue it down. A glueless full lace has combs inside and adjustable straps on both sides which allows you to install the wig without any glue. If you would like to put on a wig real quick without having to glue it down, then a glueless full lace wig must be a good choice.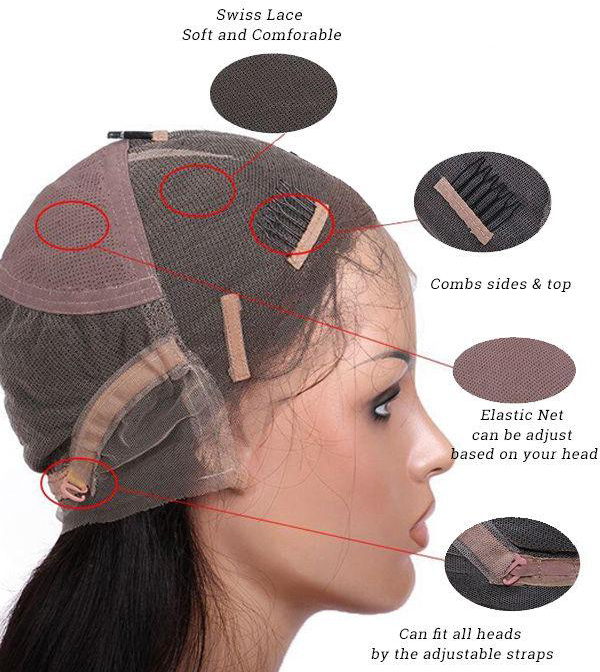 4. Get a lighter lace, not a darker one.
You want the lace to be light than dark because you can easily lighten lace but it's not that easy to darken it. To lighten it, just slapping some bleach on lace won't help. Also, it wouldn't look right when you put concealer or foundation on it, which will gonna look all cakey. So just getting a lighter lace will make everything easy.
5. Get a bigger cap, not a smaller one.
You would rather get a bigger cap than a smaller one. Because if a cap is too big there are so many ways to fix it, such as making it a little bit tighter with glue, might be a little loop but you could easily sew down or cut it and sew it back. While if your cap is too small, cutting and extending is the only choice.
6. Don't buy a dark color wig if you want a light color.
If you want to get a light bright color, don't buy a black wig or a brown wig because you have to bleach it, which would result in it messing up like the hair wouldn't be as soft and as silky as it was. It's easier and quicker to get a blonde one and it's worth it.
7. Find a stylist to customize it for you before installation.
To avoid messing up your wig, find a stylist to get them customized if you are not a professional. Let a stylist customize it, a stylist would customize the wig to your hairline, the front hairline, and the back. They will make sure you look realistic instead of your putting it on, looking all wiggy and horrible.
8. Find a stylist that does sew or glues.
Some people don't comfortable with the feeling of glue. Finding a professional stylist will be of great help . There are some stylists who only do sewings and some only do glues, just find a stylist that does sew or does glues help you with the look you are looking for...
9. Might be able to see a little lace.
You might be able to see the lace a little bit unless you have sufficient baby hairs to cover it. You can see the lace a little bit but honestly, but if it is not closing up, it's so natural and realistic indeed as if you don't see the lace at all as long as the wig is installed properly.
10. Lace wig does not last forever.
Lace wigs are not going to last forever. They are good protective styles but don't be thinking that you're gonna be able to rock it to death. Give it a year without even constant use, then it's time to pick up a new one.