If you're like most new wig wearers, you shudder at the thought of putting your new wig in a ponytail. It's stressful enough trying to make a lace front or closure look natural; adding a ponytail style to the mix just makes things more complicated. But you don't have to worry. With a high-quality wig, you can achieve a variety of hairstyles - ponytails included!
Fast Facts
1. Benefits: Ponytails keep your hair out of the way, help cool you off, and look super cute!
2. Difficulty level: Beginner-friendly
3. How long it takes: 20 minutes
4. Occasions: Casual events, work, gym, running errands, and hanging out with friends.
Choose The Right Wig
Choosing the right wig is essential if you want to create a flawless ponytail. Higher-quality wigs will give you more styling freedom, as they hold up well when you do more aggressive styles. When it comes to which type of wig to choose, full lace wigs are by far the best. In second place are 360 lace wigs, followed by lace front wigs and closure wigs in third and fourth place, respectively.
Remember, the less lace there is, the harder it'll be to pull it into a natural-looking ponytail. Although 360 and full lace wigs are the best wigs for ponytails, lace front wigs are the most popular type of wig. So, we'll create the guide with that in mind. However, you can use the same steps for a closure wig.
Three Secrets to Getting The Perfect Ponytail
Leave some of your natural hair out around the perimeter of your head so you can use it to hide the wig's wefts. Pulling your hair back can expose the wefts of hair on the back and sides of your wig, which are typically hidden when you wear the hair down.
Be careful not to pull your hair back too tight. Otherwise, you might expose the hair wefts.
While we don't recommend it (it takes a TON of work), you can pull your hair into a sleek ponytail by leaving out more of your own hair at the back and blending it into the wig.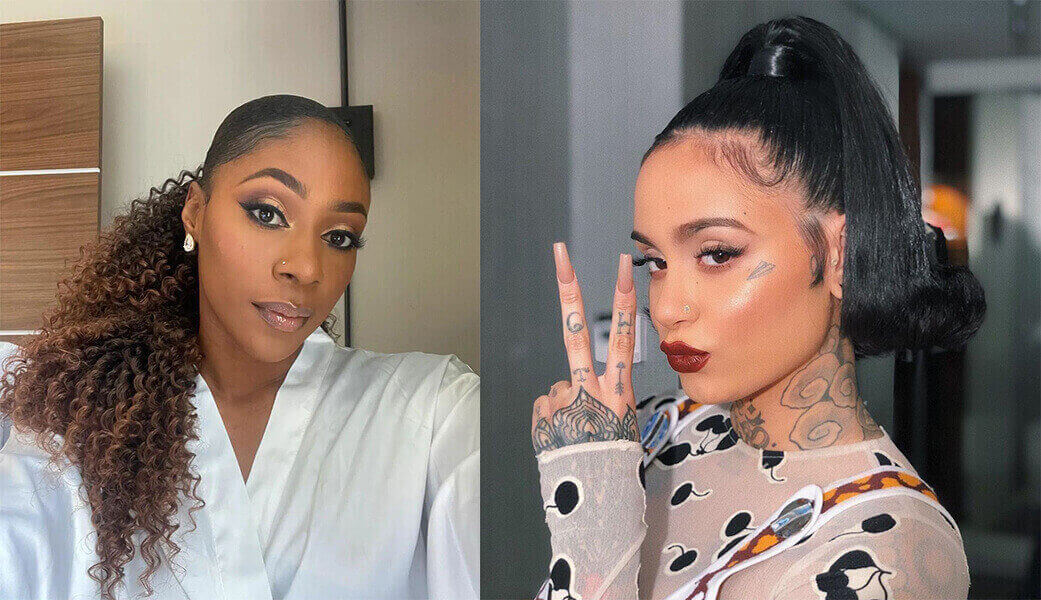 Putting Your Wig into A Ponytail - Step By Step
A ponytail is the ultimate go-to style, so naturally, you'd want to try it out with your wig. While getting the hang of it may take a couple of tries, you'll be glad you did. Without further ado, here are step-by-step instructions on how to put your wig into a ponytail.
Put on A Wig Cap
First, pull your natural hair back and secure it using your preferred method. You can put your hair into braids, twists, or any number of styles. The goal is to make your hair as flat as possible and create an even foundation for your wig.
Leave a little bit of hair out around the perimeter of your hairline, including the back and sides, so you can use it to hide the wig wefts. Once you're satisfied, put on your wig cap. A smooth, well-fitting wig cap is essential to create a natural-looking ponytail. Wig caps eliminate bulk and help the wig sit naturally on your head.
Secure Your Wig
Put your wig on and make sure it fits well and is comfortable. Pull the loose pieces of your natural hair out, so they're poking out from underneath the wig. Then, fasten the wig using your preferred method. When you pull your hair back, the backward motion puts a lot of tension on your wig. That may cause it to shift backward slightly, so we recommend using one of the more secure methods of wig installation, like the following.
1. Wig grips
2. Gel
3. Glue
4. Tape
Prepare The Hair
Once your wig is secure, carefully brush out any knots and tangles. Double-check your lace to ensure any gel or glue has had enough time to dry. Then leave a little bit of hair out around the perimeter of the wig, including the back and sides, so you can use it to hide the wig wefts.
Decide how high or low you want your ponytail to sit, and gently brush the hair in that direction.
We recommend sticking with mid to low ponytails, as they will give you the most natural appearance. Pull the hair into a ponytail with your hands and look for any visible wefts. If you see any, adjust the placement of your ponytail, so they are hidden.
Pull Your Hair Up and Secure The Ponytail
Use your hands to gather the wig into a ponytail. Remember the hair you left out? Lightly gather it into your ponytail to help smooth out the edges of your wig. Then, secure everything with a cloth ponytail holder. While you can also use metal or plastic hair ties, they can snag or rip out the wig hairs. Wrap the ponytail holder around the hair two or more times to make sure it holds up throughout the day.
Do the Finishing Touches
Now that your wig is secure and styled, it's time for the finishing touches. Lightly mist your ponytail with a wig-safe holding spray. You may also want to stick a few bobby pins around the perimeter of your wig to make sure it is perfectly secured.
Pull a few pieces of hair loose around the edges of your wig to help hide the lace hairline and make your ponytail look more realistic. And that's it! Add some cute accessories to your ponytail, or wear it as is. You can also use the ponytail as a base for more intricate hairstyles like buns, updos, and half updos.
Ponytails are a staple hairstyle, and there's no reason why wig-wearers have to be left out of the equation. So, what do you think is the hardest part about pulling your wig into a ponytail? Feel free to let us know in the comments below, and we'll see how we can help! In the meantime, we hope you found our guide helpful.