Are you thinking about upgrading your hair game with extensions or a weave? If so, you need to know all there is to know about the numbers you'll see on the packaging as you shop. Today, we'll focus on one of the most common hair colors you'll come across: 613. Let's get right into it!
What is 613 in Hair?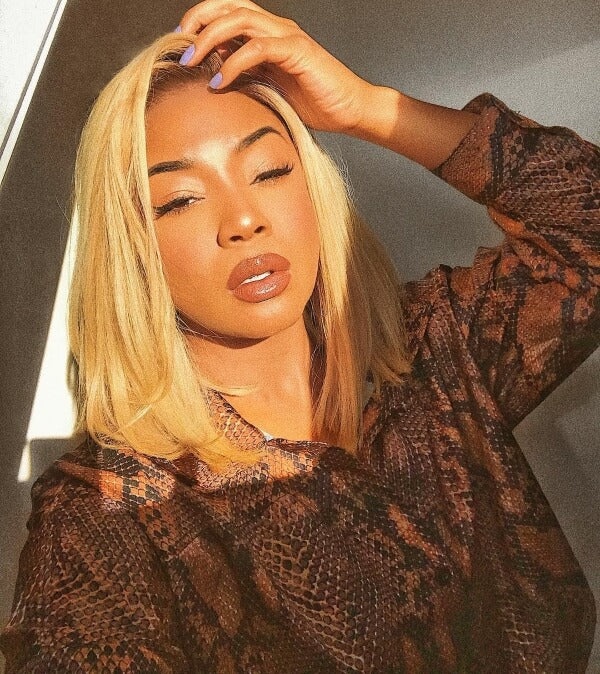 613 hair is light blonde hair. It's a very neutral shade of blonde- it doesn't have an overarching warm or cool tone. It's right in the middle. For that reason, 613 hair looks good on most people, no matter their skin tone and undertone.
613 hair is not always used as a standalone hair color; you'll often see it combined with colors like 1B (black), 27 (strawberry blonde), or 4 (brown) to create some stunning looks.
Is 613 Hair for You?
613 hair makes an impact and has made several rounds on social media sites and other popular media outlets. But that doesn't mean that it's for everyone. If you're wondering whether this color is the right choice, this section will help you.
613 hair is for you if:
1. You like the idea of standing out wherever you go. 613 is a bold, look-at-me shade that will catch people's eyes as you walk in the door. If that's not your jam, you should opt for another hair color.
2. You want to get in on the blonde hair trend. Blonde hair is trending all over social media, so if you want to jump on that bandwagon, 613 hair is an excellent way to do it.
3. You want to showcase your confidence. Blonde hair screams confidence, so if you want to communicate that wherever you go, 613 hair will help.
4. You want a hair color that'll make your dark skin pop. The contrast created between the super light blonde hair and the richness of dark skin is nothing short of magical.
5. You have lighter skin and want to complement it. Not only does 613 hair pair well with dark skin, but it also complements lighter skin like a dream.
Reasons Not to Wear 613 Hair
As we briefly mentioned earlier, 613 hair is not for everyone. You may not want to try 613 hair if you have a reserved personality and don't want all eyes on you.Otherwise, you might get some unwanted attention as you're out and about.
Also, depending on your work culture, you might get stares from coworkers or your boss if you work at a company with a super conservative dress code. This applies even more to those who want to wear their 613 hair down their back.
Before you decide whether 613 hair is for you, you'll need to think long and hard about what you want and what your work environment will allow. For most people, trying out 613 hair would be a great idea, but it's worth thinking through.
What Can You Do With 613 Hair?
613 hair is one of the most versatile hair colors. It can be used as a base color and a highlight color, among other things. Here are a few things that you can do with 613 hair:
613 Only
You can wear 613 alone - all blonde. This is for the boldest folks out there. If you're a rebel and don't care about how natural (or unnatural) your look turns out, you can go totally blonde with no shadow root, ombre, balayage, or anything else.
613 with a Shadow Root
You can wear your hair almost entirely blonde but with a darker shadow root in a #1, #4, or #27. This is ideal for people who want their blonde hair to look as natural as possible. The dark roots make the blonde look much more believable. The darker your natural hair color is, the darker you'll want your shadow root to be. That is, if you want things to look natural.
613 Blended with Other Colors
613 hair can also be blended with other hair colors to create a unique, fun shade that complements you. Some wigs and weaves feature a blend of 613 and 4 hair, 613 and 27, or even 613 with 1B. When you mix a super dark color with 613, the result will look metallic. This is where you can get super creative with your look. You can mix as much of each color as you want. It's all up to you.
Ombre 613
613 can also be used to create some bomb ombre looks, which are all the rage right now. Ombre features a darker color at the roots that transitions to a lighter color as you get to the ends. In the case of 613 hair, the 613 color will most likely be at the ends. Unless you're going for a reverse ombre, where the roots are lighter than the ends.
Go Colorful
You're also not limited to the above options. 613 hair serves as the perfect base for just about any color you want to try out. From darker hair colors, like browns and deep reds to pastel pinks and purples, 613 hair can get you there. It acts as sort of a blank canvas that you can add permanent or semi-permanent hair dye to. And when you're done trying out a particular color, you can either wait for the color to fade or use a color remover and then apply a fun new shade to your 613 hair. The possibilities are endless.
613 vs. 60: What's the Difference?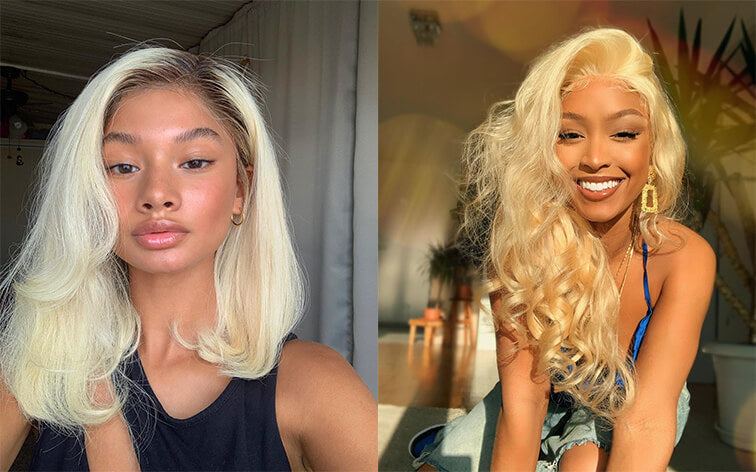 You may have encountered 60 hair and wondered how it compares to 613 hair. We'll illuminate what makes them different in this section.
60 hair is known as platinum blonde and is much lighter than 613 hair. If you hold the two hair colors together, you'll quickly realize that 60 is lighter than 613 and has less of a blonde tint. It's got more of a white hue. So, if you're looking to create a platinum, snow white, icy blonde do', go with 60. If you want a slightly less showy blonde, 613 will be more your style.
Want a 613 Color Hair Wig? Here's How to Choose One
If you've made the decision to choose a 613 wig, that's great! Now you need to take steps to ensure you choose the right one. But how do you do that? Here are some tips to narrow your search:
Choose a human hair wig. Human hair wigs are the highest quality wigs you can get your hands on. They are composed of human hair, which tends to last much longer than synthetic hair - years in some cases. It also looks incredibly natural. Since it's real hair, it'll look and behave naturally.
Ensure that the lace is either HD lace or transparent lace. HD lace is the overall best lace type out there. Though it's a bit fragile, it's thin enough to be just about undetectable. The most natural-looking type of HD lace is Clear Lace. It gives you all the benefits of HD lace in a clear color that matches any skin tone - from ultra-fair skin to the darkest there is. Transparent lace is another good option. It's ideal for anyone who doesn't have the money for an HD lace or Clear Lace wig. "Transparent lace" is a standard type of lace that comes in various semi-transparent shades. If you decide to go for this lace type, you should choose a color that's identical to your skin.
What style do you prefer? Think about the following wig components to choose your ideal style:
1. The texture (curly, straight, wavy, kinky, etc.). Choose based on your personal preferences.
2. The cut (bob, layers, bangs, etc.). Shorter styles tend to work best in the summer months, while longer styles are better suited for the wintertime. But you should select the cut that makes you feel the most confident.
3. The length (short, medium, long, very long, etc.). Wig lengths are usually expressed in inches. Measure at home to determine the best length for you. You'll find wigs from a couple of inches long to 30 inches or more. But the most common measurements are 8 to 32 inches long. You've got lots of choices.
4. The density. Hair Density is another consideration that you should never overlook. Low-density wigs often look more natural, while super-dense wigs tend to look artificial. Glam wigs are usually higher density than everyday wigs, so you'll want to opt for a higher-density wig if you want big, larger-than-life locks. So, keep that in mind before you choose a unit.
613 Color Hair Inspiration
613 hair is so versatile that most people have trouble selecting the right color combo, blend, or style for them. If you could use some inspiration, check out the styles below:
Sleek, Straight, and Glam 613/4 Mix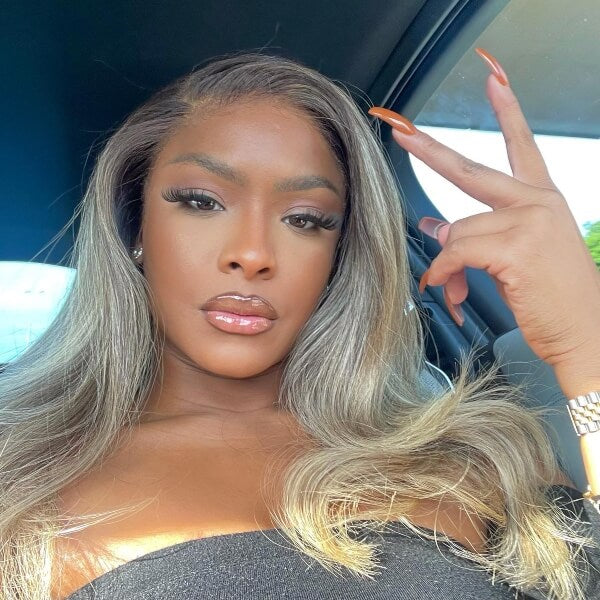 Just look at this gorgeous side-part do'. It features a lustrous mix of 613 and 4 colored hair with a subtle shadow root. There's also more of the 613 along the hairline to enhance the look's natural appeal. This style is ideal for upscale parties, club outings, or even formal events.
Sexy 613 Updo with Tendrils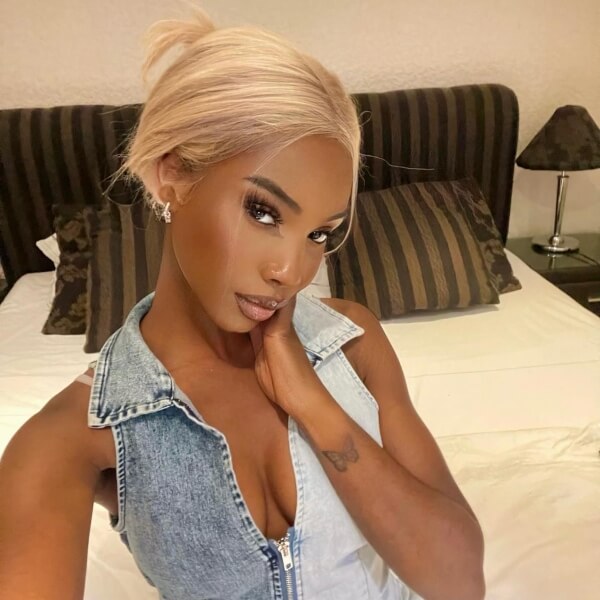 Looking for something bold yet understated? This 613 updo with tendrils is right up your alley! Its color is bold and in-your-face but short and pulled up. This makes the look infinitely more wearable than other 613 hairstyles. Rock this look to your job, out with friends, or on typical errands.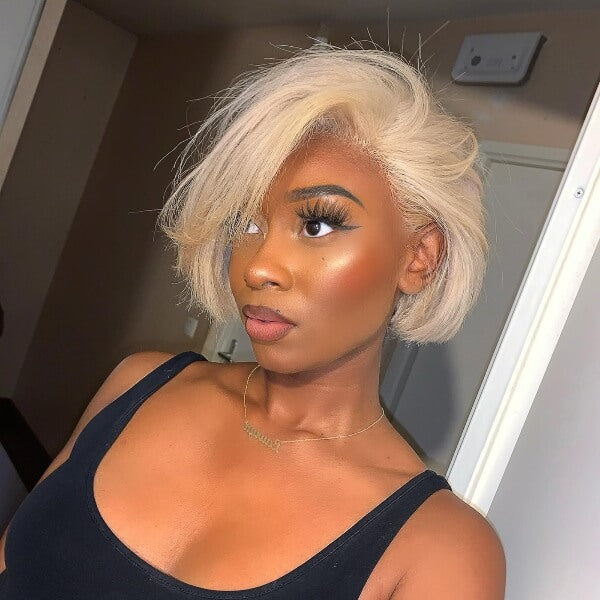 Are short dos more your style? Bobs are the quintessential short style every woman should try at least once. And in this gorgeous 613 color, your bob would stand out from the rest in the best way. There's no shadow root on this bob, so only try this look if you don't mind it looking a little bit artificial.
613/1B Bob with Side Part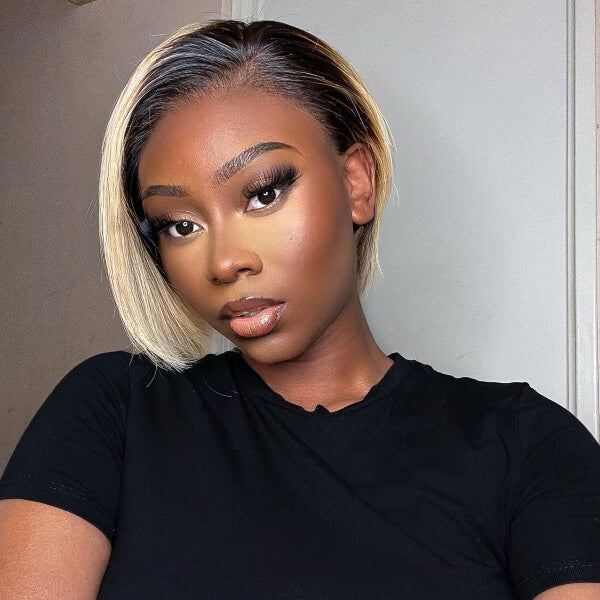 This bob is for those who like to walk on the more natural side. It features quite a bit of that beautiful blonde 613 color, but the roots and a portion of the mid-lengths are 1B (the darkest black you can get). Because of the darker roots, this look will complement just about any skin tone.
Straight Midlength 613/1B Tresses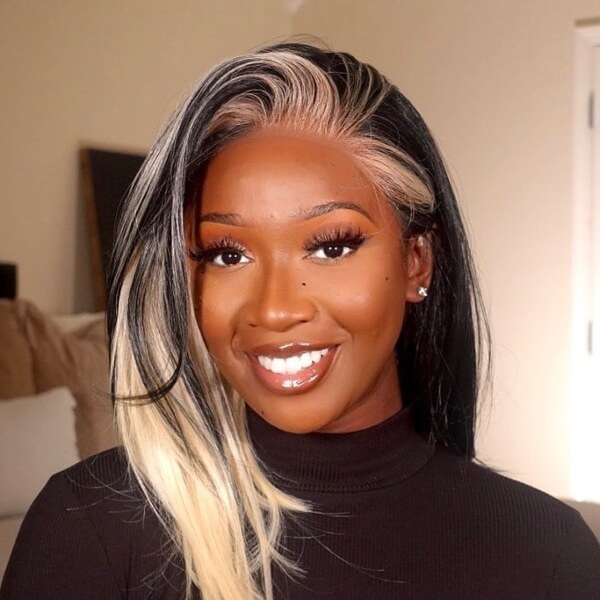 Not into short hair? Try this mid-length 613 style. It features streaks of 613 against super dark 1B hair. The 613 pieces act as a pop of fun and elevate this look to the next level.
613/27 Bombshell Waves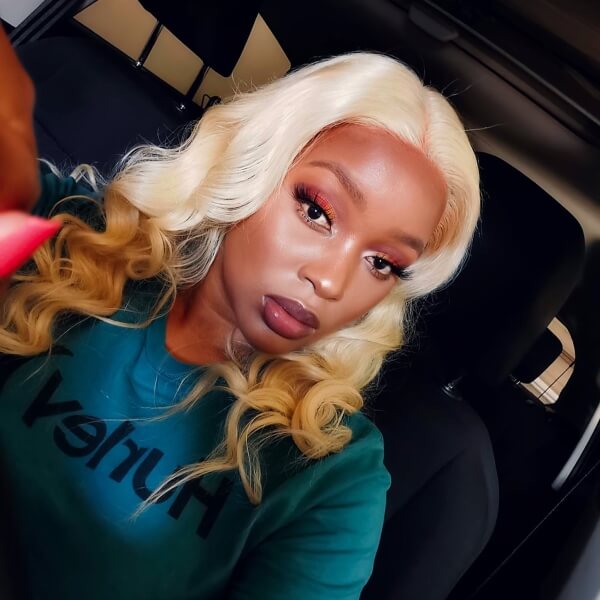 If you want to achieve bombshell status, this look will get you there. It's a mix of 613 and 27 hair colors that instantly take your aesthetic into Hollywood territory. Try this style if you want to command attention as you sashay down the street. It works for parties, graduations, and other formal events.
Cascading 613 Curls with 1B Shadow Roots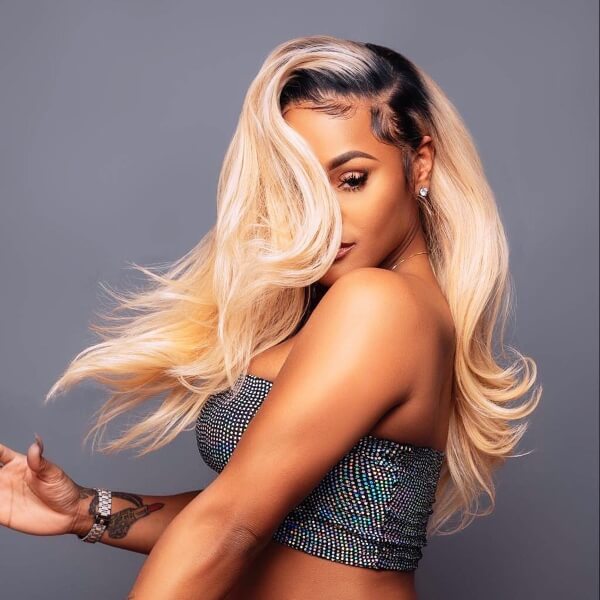 For a more effortless look that's every bit of sexy, try this style. It features a whole lot of 613 with a bit of 1B color at the roots for blending purposes. You can't go wrong with this look, whether you're light-skinned, dark-skinned, or anywhere in between. Shop this style here>>
613 Curly Bob with Bangs and Dark Roots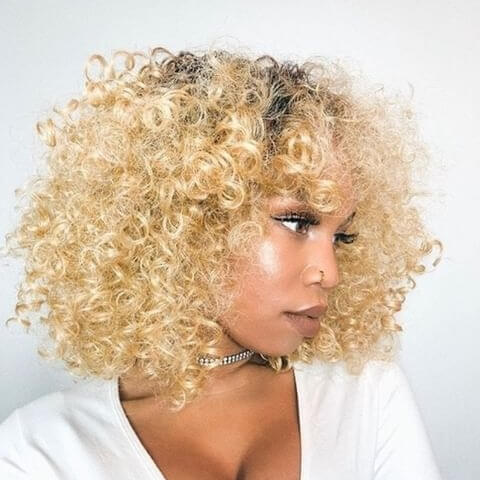 This style pick is for anyone who loves a naturally textured look. It features some medium-sized curls in that light blonde 613 hue and dark roots to tie everything together and make the look believable. The look is perfect for virtually every occasion and will surely turn heads.
Long 613 Curls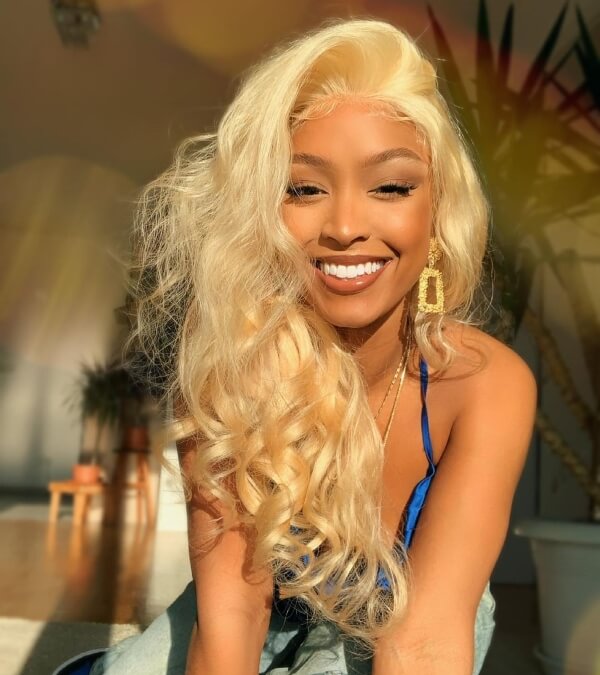 Few styles are as flirty as long curls, and they're even more sultry when they're in this shade. This style doesn't have a darker root, so it's not the most natural look. But if you have the right attitude, that won't matter! Try this look if your main goal is to look unapologetically chic.
So, there you have it - everything you need to know about the 613 hair color. With the information we've gone over in this article, you have all you need to transform your hair from ordinary to extraordinary with 613 hair. Now we've got a question for you: do you wear 613 hair? What's your favorite 613 hairstyle? Let us know in the comments to get the discussion started!