Here's a little secret: a hairstyle isn't officially done until you've laid your edges. Your edges hair plays a huge part in how your style comes out - it can easily take your look from frumpy to all-out glam. So, if you've never laid your edges down, you are missing out! In this article, we'll introduce you to edges hair care, styling, tools, and everything else you need to know. Let's get right into it!
What is Edges Hair?
Your edges hair is the hair along your hairline - specifically, the front and sides. As you might imagine, it's called "edges" because it's situated around the edges of your hairline. It is often more delicate than the rest of your hair and can be easily damaged or broken off. So, they require special care.
How Edges Hair Started
Contrary to popular belief, edges hair is not a new trend. In fact, it has been around for about a century!
It started with Josephine Baker, a Black woman, in the 1920s. She was a famous dancer and performer and was known for her unique sense of style. One of her signature looks was her slicked-down hair with baby hairs styled in thick, shiny swoops. This look quickly caught on with other Black women of the time and has been a staple in our community ever since.
What you Need to Style Beautiful Edges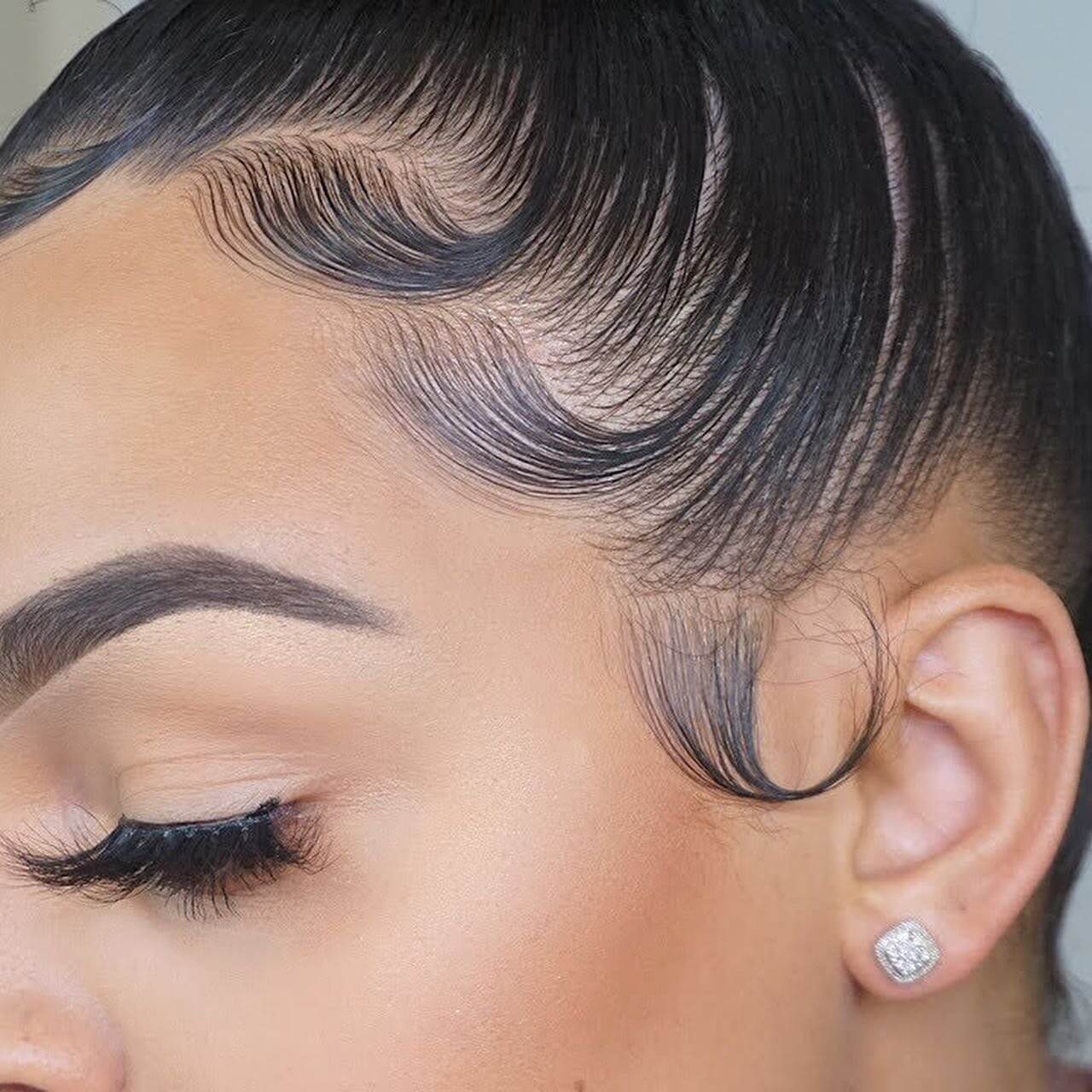 With the history down, let's move on to what you need to style your edges. Below, we've listed some essential tools and products to help you get the best results:
Best Products for Your Edges
In case you didn't know, your edges are only as good as the products you use to style them. So, it's important to choose the right products - otherwise, you'll be stuck with frizzy, unruly edges that just won't cooperate.
To help you out, we've compiled a list of our favorite edges hair products:
Eco Style Gel: This alcohol-free gel has incredible hold and will lay your edges down beautifully. And the best part? It won't flake, even after days of wear.
Doo Grow Simulating Growth Oil: This oil is ideal for edges that are sparse or have been damaged by years of tight hairstyles. It helps to stimulate growth and gives your edges a healthy, lustrous appearance.
Hair Wax Stick: Not a fan of gels? No problem! You can also use a hair wax stick to lay your edges. We love this one by Samnyte. It provides strong hold without the crunchiness and leaves your edges with a beautiful shine.
SheaMoisture Curl Mousse: This mousse is perfect for setting your edges in various styles. It's also effective at taming frizz and providing hold without making your hair feel crunchy or stiff.
Best Tools to Style Your Edges
In addition to products, it's imperative to get your hands on the right tools to style your edges. Here are our top picks:
A soft-bristled toothbrush or edges brush: These brushes grip your edges without pulling them out.
A silk edges scarf: A must-have for setting your edges in place and keeping them flat while they dry.
A blow dryer with a diffuser attachment: This is optional, but if you want to speed up the drying process, a blow dryer with a diffuser can help.
How to Style Edges
Styling for edges hair isn't complicated - in fact, it's quite simple! In this section, we'll tell you how to do it step-by-step.
1. Wash Your Hair
First, you'll want to start with freshly washed hair. Starting with a clean slate will prevent build-up and make your hair more pliable (which makes the styling process easier). Don't forget your conditioner and a hydrating leave-in conditioner. The more hydrated your hair is, the easier it will be to style.
2. Apply Your Gel or Holding Product
Once your hair is clean and dry, apply a strong hold gel or other holding product to your edges. Be generous with the product, because if you don't use enough, you won't get the sleekness or hold you need for a good result.
3. Style With Your Brush
Next, use your brush to lay your edges down. Place the brush on top of the roots of your edges and work your way forward, turning the brush as needed to create swoops and swirls. Use your fingers to hold your edges down whenever you change directions with the toothbrush/edges brush. Throughout the process, ensure that you don't pull hard on your edges, as doing so can break them off.
Note: It can take several tries to get your edges hair laid right. So, don't worry if you don't get it right the first time. If you have to try multiple times and your hair dries out, spritz it with water to remoisten your hair. It's never a good idea to brush dry edges.
4. Set Your Edges
Once your edges look how you want them to, set them in place with a silk scarf. Place the scarf on your head and tie it tightly (but not so tight that you get a headache). The goal is to keep your edges as flat as possible so they can set properly.
5. Let Your Edges Dry
Now, all you have to do is wait for your edges to dry. This usually takes about 15-30 minutes. Once they're dry, take off the scarf, and you're done!
Different Styles of Edges Hair
Edges hair can be worn in a variety of styles. Here are some of our favorites:
Swoops: This style is achieved by brushing your edges hair forward and then sweeping them back. To get the perfect swoop, use a strong hold gel like EcoStyle Gel and a soft-bristled toothbrush or edges brush.
Waves: Want to add a bit of texture to your edges? Try styling them into waves! This style works especially well for people who have really short edges.
Swoops and finger coils: This edges style is a more feminine take on the classic swoop. First, you'll create swoops near your temples, and then you'll add holding product to your sideburns, coil them around your fingers, and release them.
How to Maintain Your Edges
Maintaining your edges requires careful attention and a bit of TLC, but it's not difficult if you know what to do. In this section, we'll give you some tips on how to keep your edges looking their best.
Oil Them Regularly
Oiling your edges is key to keeping them healthy and strong. We recommend doing so at least once a week, but twice a week is even better. When you oil your edges, be sure to use a light oil like jojoba oil or grapeseed oil. These oils won't weigh your hair down or make it look greasy.
Keep Them Clean
If you use a lot of products in your hair, it's important to make sure that you don't get buildup on your edges. To prevent buildup, use a clarifying shampoo once a week and avoid using too much product. Generally, it's best to start with less product and then add more if needed.
Massage Them
Massaging your edges helps to stimulate blood flow to that area of your scalp, which can promote hair growth. We recommend massaging your edges for 5 minutes a day using a light oil like jojoba oil or grapeseed oil. Only massage when your edges are free of gel or holding spray.
Be Gentle
It's important to be gentle with your edges, as they are delicate and can be easily damaged. Avoid brushing your edges too hard, and when you do brush them, use a soft-bristled brush. In addition, be careful not to pull on your edges when styling them.
Avoid Heat Damage
One of the worst things you can do to your edges is subject them to heat damage. This can happen if you use hot tools too often or don't use a heat protectant before styling. If you must use heat, be sure to use the lowest setting possible and don't hold the tool in one spot for too long. Additionally, use a heat protectant before you get started.
Avoid Styles that Can Be Damaging
There are some styles that can put unnecessary stress on your edges, which can lead to damage. Examples of these styles include tight ponytails, ultra-sleek buns, and small box braids. Avoid these as much as possible.
Is Edges Hair for You?
Edges hair is a great way to add style and personality to your look. If you're looking for a way to switch up your look without a ton of work, edges hair may be the perfect option for you! You should skip laid edges if you're experiencing hair loss or thinning; the manipulation associated with styling your edges can make the problem worse.
Use Wigs to Create Your edges
Natural edges are well and good, but constantly styling them can be time-consuming and damaging. If you're looking for an easier way to get the look, try using wigs!
When you use wigs to create your edges, you can avoid the hassle of styling and maintaining your look with minimal effort. Additionally, wigs can be a lifesaver if you suffer from general hair loss or thinning edges. They allow you to style your edges however you want without manipulating your natural hair. Plus, they're easy to style and maintain.
Once you get your hands on a wig with baby hairs (or add baby hairs to your existing wig), you're ready to go! All you'll do is braid or slick your hair back, put on a wig cap, install your wig, and then style your wig's baby hairs as you please. No damage, no fuss!
Not all wigs are created equal, though, so it's important to choose one that's made of human hairand has a natural-looking hairline. This will ensure that your styles and edges hair look as realistic as possible. We encourage you to browse our extensive selection of high-quality human hair wigs - you won't find better wigs anywhere!
So, there you have it - everything you need to know about edges hair, from styling to maintenance. We hope this article has been helpful and that you feel confident rocking your edges from now on!