Want to breathe new life into an old wig? Adding some edgy bangs is a great way to do it! But before you reach for the scissors, there's a lot you need to know about the wig cutting process. You need to choose the right bang type, purchase specialized supplies, and then cut the bangs using the appropriate technique. In this article, we will walk you through the proper way to cut bangs on a wig right at home.
Choose the Right Bang for You
The type of bangs you choose is entirely up to you, but it's best to choose ones that accentuate your facial features. Here are some guidelines for which bang types work best with certain face shapes.
1. Round - Stay away from straight bangs and instead try thick, side-swept bangs.
2. Heart-shaped - Unlike full or thick bangs, a wispy fringe will help balance your features.
3. Square - Avoid short bangs and opt for long, straight-across bangs instead.
4. Oval - Oval faces are versatile and can get away with pretty much any style of bangs.
5. Long - Micro-bangs can make long faces look even longer, so stick with longer bangs to balance things out.
In addition to your face shape, consider the below tips to help you choose the right bangs:
1. How bold will you go? Think about whether you want a bold, edgy look or one that is soft and romantic. Bold looks usually incorporate blunt ends and varying lengths while soft looks feature smooth gradients and wispy ends.
2. What's the texture of your wig? You'll also have to consider whether your wig is straight or curly. Some bang types, like super blunt straight across bangs, don't always look right on curly hair. Likewise, some bangs don't work with straight hair.
3. How Dense is your wig? The denser your wig is, the more possibilities you have. But if your wig is low density, you'll need to be careful not to choose bangs that remove too much volume.
4. What types of bangs do you personally like? Wearing and styling wigs should be fun, and your personal preferences and likes should never be ignored. If you've been dying to try a certain type of bangs, do that and see how you like them.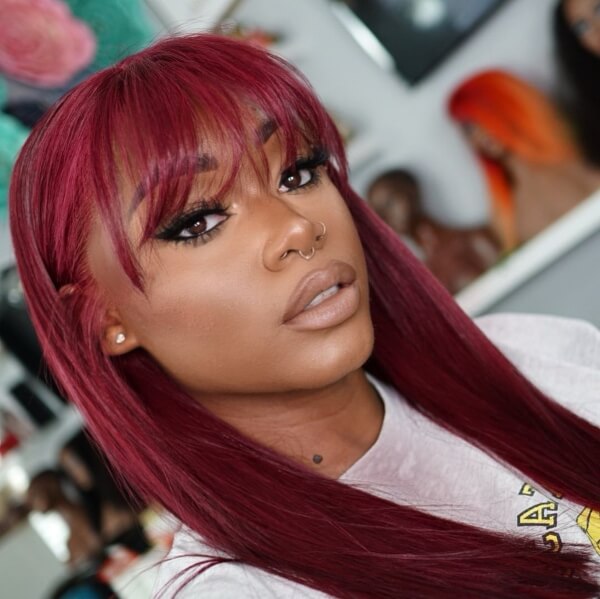 Tools You Need to Cut Bangs on Your Wig
Even if you've picked out the perfect set of bangs, using the wrong tools will make achieving them impossible. Getting the best results means you have to use the right tools, so here's what you'll need to cut bangs on a wig.
1. Your wig
2. Hair-cutting scissors
3. Comb (wide tooth for curly wigs, rat-tail for straight wigs)
4. Wig stand (canvas or styrofoam) and T-Pins
5. Clips
Note: Hair cutting scissors are much sharper than the scissors you used in school, and that makes them perfect for cutting hair. If you don't have hair cutting scissors at home, we suggest purchasing some. Without the right scissors, you could end up damaging your wig's hairs and ruining your style.
Cut Bangs On Your Wig Step by Step
Now that you have your tools ready, and a general idea of how to pick the right bangs for your face, it's time to dive into the nitty-gritty. Here are detailed step-by-step instructions on how to cut bangs on your wig.
Step 1: Put your wig on (or on a wig stand)
Make sure your wig is dry and relatively clean and put it on. Cutting your bangs with your wig on will give you a clear picture of what you're doing. It will also keep the wig filled out, so it's easier to cut. If you don't want to wear your wig, you can put it on a wig stand instead. Just make sure it's perfectly straight and secure it with T-Pins so it doesn't move around while you work.
Once your wig is on and secure, play around with the hair and see how you want your bangs to fall. Fold and tuck the hair to see precisely what your bangs will look like once you cut them. Make sure you look at plenty of reference photos during this step to narrow down what look you want to go for. Once you cut your wig, there's no going back. So, make sure that you know what you want before you start.
Step 2: Carve out your bangs
Use your comb to part the wig and select the portion of hair that you want to use for the bangs. Make a triangle part in the front center and brush the hair forward. Keep the rest of the hair from getting in the way by securing it with a hair tie or clip. Once you've carved out your bangs, comb the hair to smooth it out and eliminate any knots or tangles.
Step 3: Measure out the length of your bangs
Run your fingers down the length of the bangs and figure out how long you want them to be. If you plan on removing a lot of length, go ahead and cut off a few inches. Make sure you leave the bangs longer than you want them in the end. Cutting less hair than you plan to remove gives you the option to leave them longer later.
Step 4: Cut the bangs at 45 degree angle
Pull the bangs taut with one hand and use the other to cut your hair. Hold the scissors at a 45-degree angle and snip the bang from the middle to each side. Try not to remove more than a quarter-inch at once to avoid mistakes. Make your snips even smaller once the bangs are close to the length you want.
Step 5: Check out your work
Once you're satisfied with the length of your new bangs, take a step back and examine them. See if there are any areas that you need to even out and then touch them up. If you're satisfied with the cut, tousle the hair to see how it lays in different directions.
Step 6: Do the finishing touches
If your bangs need any additional work, go ahead and finish your touch-ups. You can also soften your bangs by holding your scissors at a 90-degree angle and lightly cutting straight into the ends. After you're satisfied, you're ready to move on to the last step!
Step 7: Style your new bangs
Once you've finished cutting your bangs, go ahead and style them. You can brush them to one side or try a chic middle part. You can also polish them with a straightener or add some texture with a curling wand. Figure out which style is most flattering and make all the adjustments you need.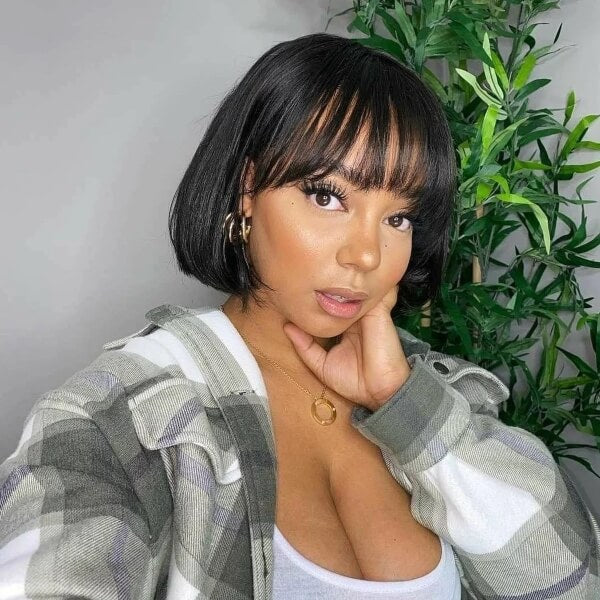 Dos and Don'ts of Cutting Bangs on A Wig
We'd like to wrap things up by giving you some tips to make the bang-cutting process as easy as possible. Keep these tips in mind to ensure your bangs come out looking beautiful.
Dos
1. Do use the right bang shape and length for your features.
2. Do get your wig professionally cut if you aren't confident.
3. Do use a reference photo.
Don'ts
1. Don't cut too much off at once.
2. Don't cut your wig while it's wet unless you're experienced.
3. Don't use craft or kitchen scissors.
Takeaway
Cutting bangs on a wig is an easy way to add some spice to your unit. And with the right information, most people can do it at home. Just make sure you take your time, as once you cut the hair, it's gone forever. We hope this article has given you all the information you need to cut pro-level bangs on your unit!