Tired of being torn between two of your favorite colors when it comes to your tresses? Easily one of the trendiest solutions to date, Skunk Stripe Highlights are refreshingly daring! First seen in the late '90s and early 2000s, these spunky stripes provide a modern twist on a throwback treasure.
With a dark head of locks accentuated by surrounding lighter color blocks or vice versa, you'll remain the topic of conversation for weeks to come! Keep reading to find out more about this rockstar-inspired hair trend and discover how to achieve the look for yourself:
What Is Skunk Stripe Hair?
Chances are, when you think of a skunk, you see its signature fluffy black mane kissed by contrasting white stripes. The Skunk Stripe follows suit, color-blocking two hues and bringing their contrast to life.
While the original Skunk Stripe involves a combination of a pearly platinum blonde and raven black, any hues that rest on opposite ends of the color wheel will work well together. From chestnut brown and pumpkin orange for an ode to Autumn, to dark violet kissed by robin's egg blue for major pixie vibes, the possibilities are endless!
Whether alluring stripes on the sides of your tresses, a brave and jaw-dropping half-and-half look, or boldly blended, contrasting top and bottom layers, you simply can't go wrong no matter what you decide.
Skunk Stripe Hair vs Money Piece Hair - What's the Difference?
So what exactly makes the skunk stripe trademark different from the oh-so-popular money piece highlight? After all, they both need two or more contrasting colors for the end result. Here are a few differences that will help you tell these statement styles apart:
While the money piece sometimes pairs tones that are a couple of shades apart, the skunk stripe is all about heavy contrast.
The money piece highlight is known for framing the face, typically at the front of the mane. The skunk stripe can be anywhere - front, back, sides, and even half and half.
Lastly, money piece highlights usually consist of a featured highlighted area. Skunk stripes can be thick or thin and used throughout the entire hairstyle.
Simply put, the skunk stripe is two-tone hair, not necessarily in just one area. With this color-blocking trend, enjoy a chunky colored front or a peekaboo hue underneath the primary color - explore your options and have fun with it!
20 Skunk Stripe Hair Inspirations
1. Platinum Blonde Skunk Stripe on Black Banged Soft Wave Bob
If you want the more subtle approach to your skunk stripe, this classic mix of warm, bright platinum and a cool jet black delivers a notable, yet elegant contrast. As the name suggests, this color duo perfectly mirrors that of a skunk, making it one of the most popular hue combinations. With sassy bangs framing the face, the pairing with a voluminous, shoulder-length softly waved bob is simply genius. Think '90s girl next door as you become inspired by this spunky swirl.
2. Platinum Blonde Skunk Stripe on Black Loose Waves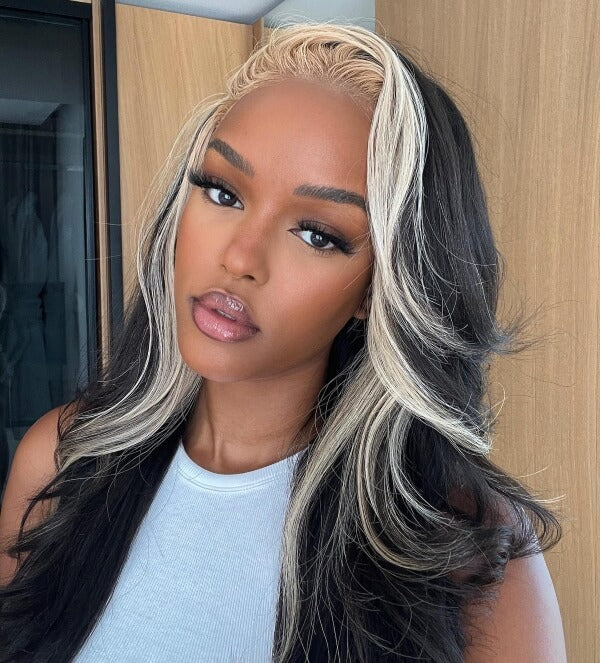 A block of piercing platinum and a cool onyx work perfectly in tandem on short tresses and long locks, which is always a plus. With a blonde skunk stripe framing the faces, beginning at the roots for a thicker, more prominent highlighted area, you'll love channeling your inner Y2K prissy princess! Lindsey Lohan would be proud as you pay homage to her chic style of yesterday showcasing a duo of colors.
3. 613 Blonde Peek-A-Boo Skunk Stripe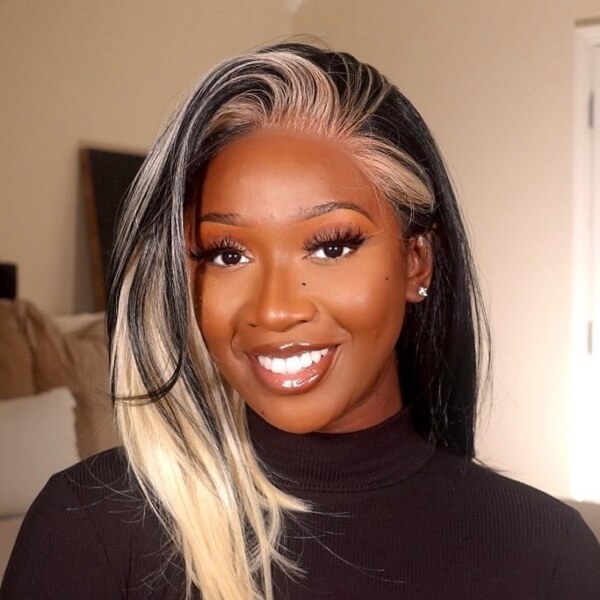 What better way to show off your split decision than by showcasing your skunk stripe in a fun peek-a-boo fashion? Show off your whimsical platinum highlight with a little face framing in the front. Add a hint of surprise with a color block of the bright tone peeking underneath the primary midnight mane. Wear your own copycat version of Christina Aguilera's unforgettable two-toned tresses of the early 2000s by pairing this cookies 'n' cream look with luxurious, lengthy straight locks.
4. Gray Skunk Stripe with Black Soft Waves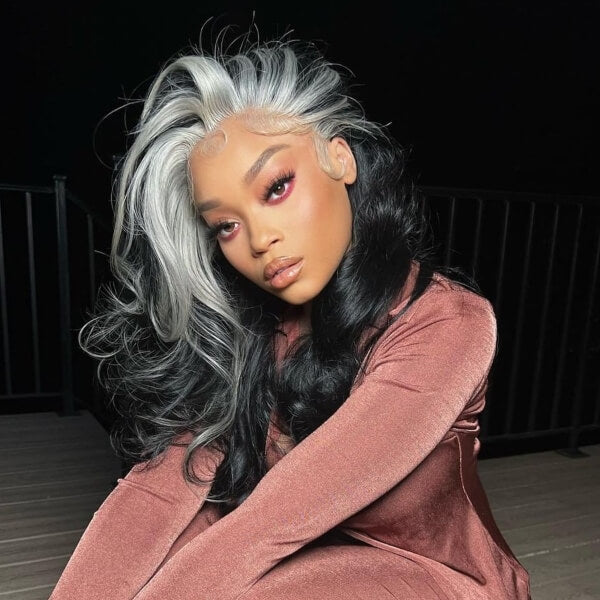 When Storm from X-Men meets Lily Munster, the aftermath is anything but frightening contrary to popular belief. (That is, at least when it comes to hair!) Live life on the edge by pairing a unique, spunky silver skunk stripe with a head of ebony locks. With an icy crown resting at the front of your tresses, you'll deliver more pizzazz to your elegantly wavy finish.
5. Honey Blonde Skunk Stripe on 2B Wavy Hair
If you're thinking that your new highlighted hairdo has to be loud and eccentric, think again. Some prefer a more refined approach to their color blocking, which is just as effective and trendy. (Even Queen Bey herself has been spotted rocking a similar look, and if anybody knows hair fashion, it's Beyonce!) If you want a more professional look, consider pairing a warm honey blonde with deep black soft waves cascading down the shoulders.
6. Honey Blonde Skunk Stripe on Black Coils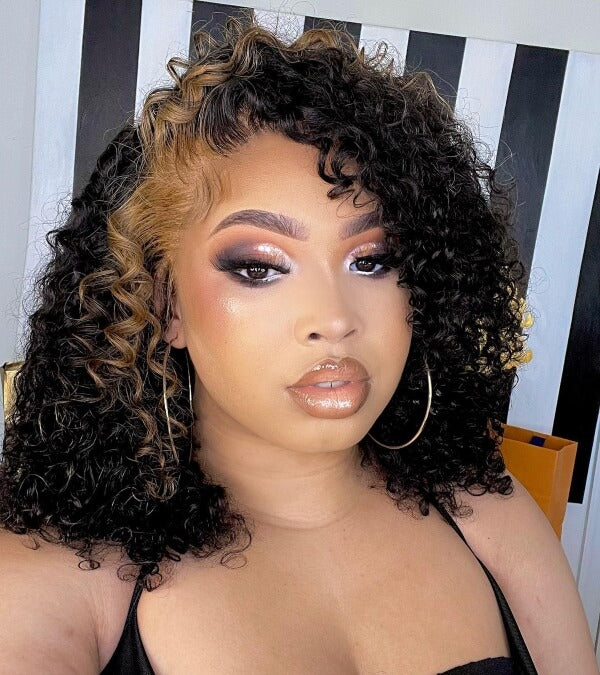 For all those naturalists out there, you will be happy to know that this highlight trend looks amazing on any hair texture! Luckily, the only important aspect is having two contrasting colors in playful juxtaposition with each other. You could choose a wild, uniquely vibrant hue at the front of your mane, or keep things classy with a light or honey blonde on natural coils.
7. Honey Blonde Skunk Stripe on Chestnut Brown Loose Waves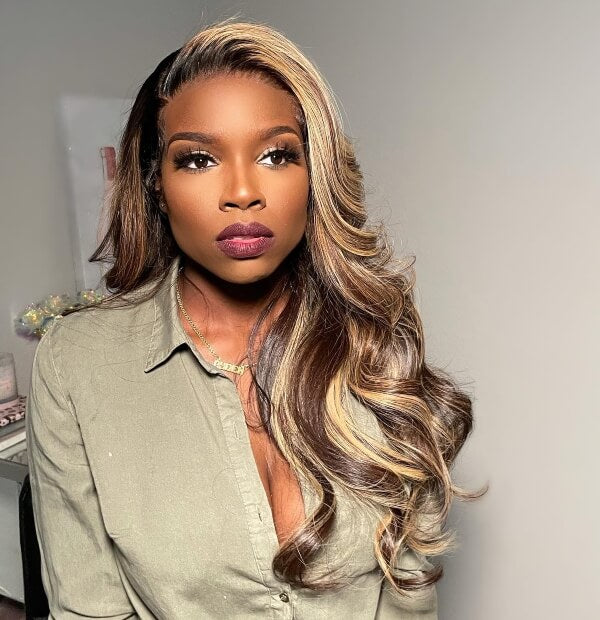 If you like the way a nice toasted blonde rests on your mane, instead of pairing it with black, how about going a tad bit lighter? Give your tresses a yummy mocha frappe look with a honey-blonde skunk stripe swirled throughout chestnut brown waves. Show off the volume and dimension of your curls with a flattering side part.
8. Shamrock Green Skunk Stripe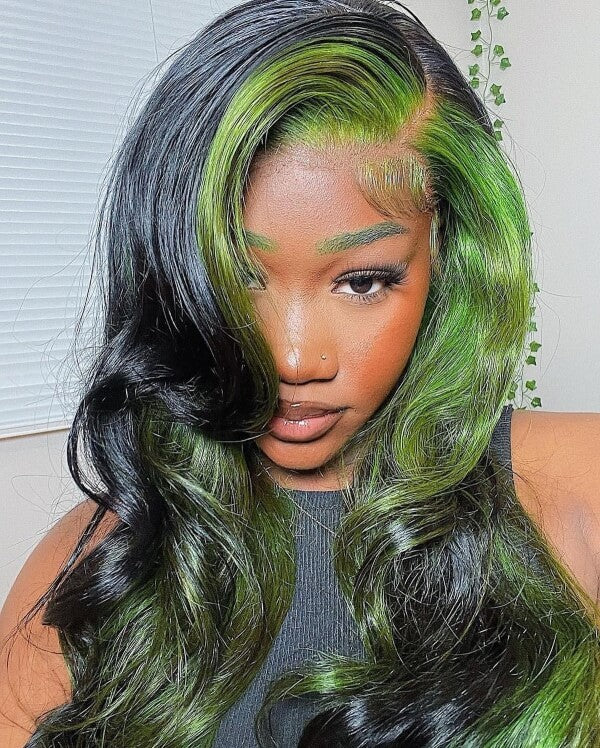 Since Kylie Jenner, Cardi B, and Rihanna are all no strangers to the lavish life, there's a reason why they have all been seen with money-colored locks! Time to step out of the box and turn heads with an emerald-highlighted look dancing through dark black locks. You can even add more of a wow factor by adding the skunk stripe to the roots of your hair for a bold finish.
9. Lime Green Skunk Stripe on Long Black Loose Waves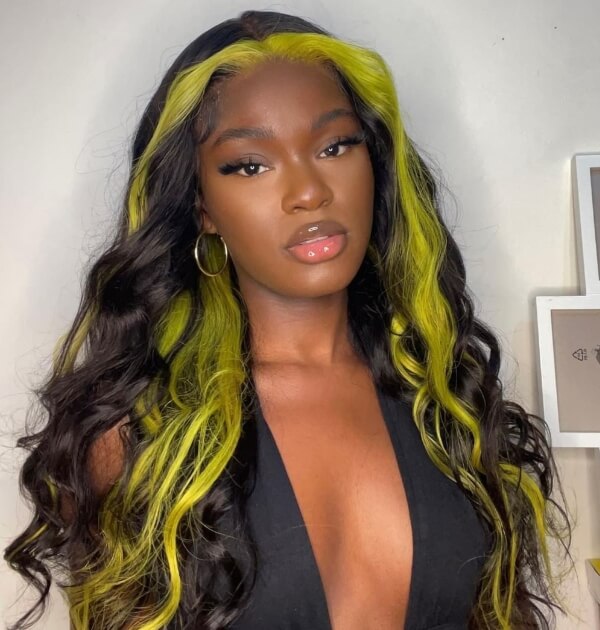 On the other hand, you might be more of the "live out loud" type, which is why you'll love leaving them green with envy with this bold skunk stripe combo. This rendition bodies the alternative look, pairing a bold and bright lime green with dark, raven black tresses. With these sweeping, shoulder-length soft waves, you'll send them rocking with an ode to the beginning of the new millennium. Enjoy the aftermath of when a goth girl meets a bombshell! Goodbye boring, hello Billie Eilish!
10. Peony Pink Skunk Stripe on Black Deep Waves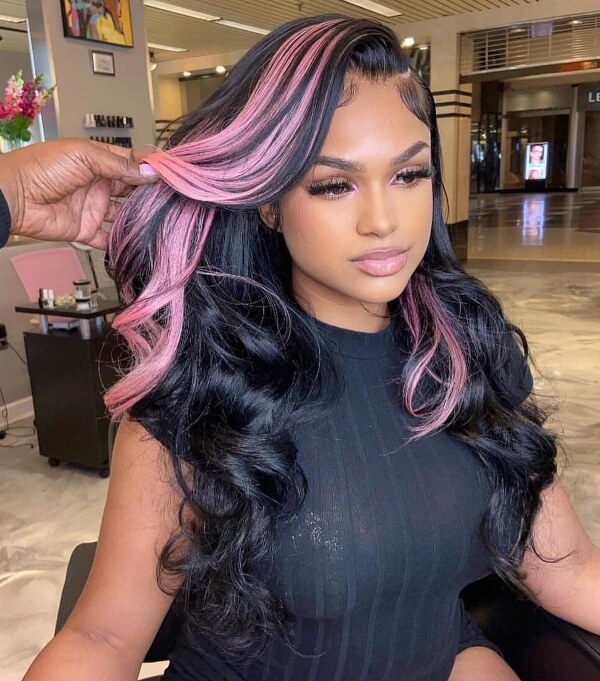 There's something about the softness of pink that leaves us craving more of its girlish charm. With hints of peony dancing throughout this dark black mane of deep waves, notice the lighter hue enhances the definition of the look. When a skunk stripe catches the eye while drawing attention to the voluminous texture, all you have to do is show up - the fierceness handles the rest!
11. Bubblegum Pink Skunk Stripe on Chocolate Bob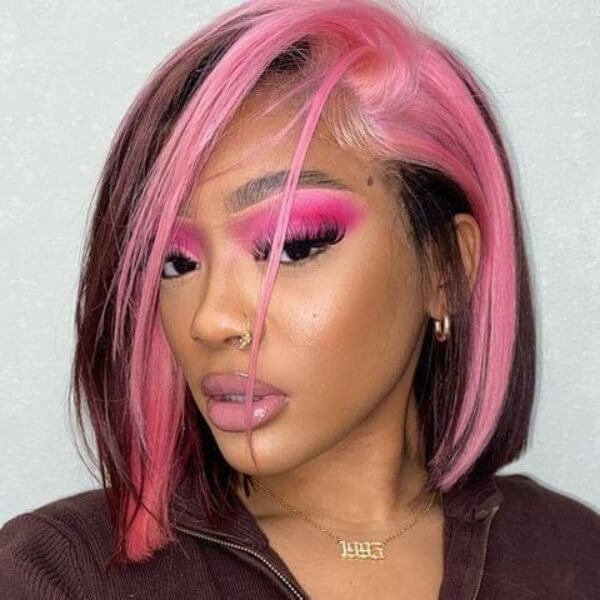 The bob haircut and pink tresses go together like peanut butter and jelly for some reason! From Kelly Osborne and Nicki Minaj, to of course none other than Pink herself, we've seen plenty of examples over the years of just how daring a pink blunt cut is. Tone it down a notch with a chunky color block of bubblegum pink that will hug your face just right. Notice how the pairing of pink eyeshadow further accentuates the playful hue as the cool chocolate brown tone blends flawlessly in the background. The blunt-cut bob style serves as the icing on the cake. Not sure which bob will look best on you? Before you decide, be sure to take a look at a few bob hairstyle options.
12. Hot Pink Skunk Stripe on Long Black Soft Waves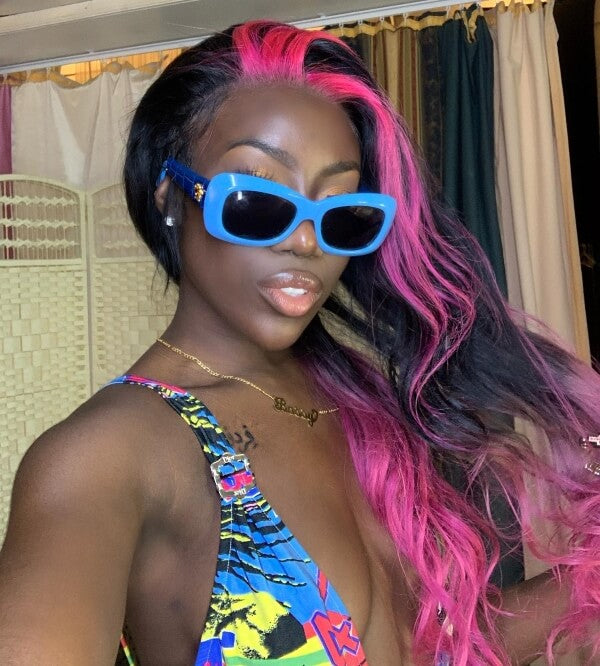 So we've got sugar and spice - now let's double down on the "everything nice" with more stylishly pink antics! Instead of opting for a soft, subtle tone, how about switching things up with a jaw-dropping hot pink skunk stripe? Bella Thorne became the topic of conversation as she donned a head full of bright pink tresses and so will you! Turn heads with a few hints of magenta near your face, leaving the rest dripping from the ends of your alluring obsidian waves.
13. Strawberry Pink Skunk Stripe on Charcoal Black Straight Locks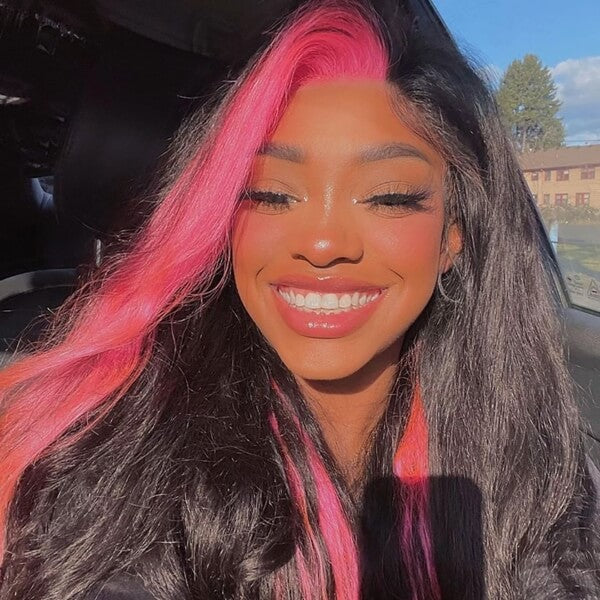 If you want onlookers to focus more on your hair color than the texture, a chunky color block of strawberry pink is a surefire way to do it! Bring "The Pinkprint" to life with a thick, punch-hued stripe right at the front of your mane in a very Nicki Minaj-like fashion. Mimic the rap icon's style even more with pink highlights peeking underneath your dark contrasting locks.
14. Barbie Pink Bottom Peek-A-Boo Skunk Stripe on Black Banged Ponytail
Do you enjoy serving sass with a classic messy bun? How about turning heads with a fierce high ponytail? If you find yourself often sweeping your tresses up, leaving the back of your mane exposed, consider a flattering half-and-half look. By placing a raspberry-hued skunk stripe at the back of your mane, you'll deliver an unforgettable edge to your surrounding dark tresses.
15. Flamingo & Magenta Pink Blended Skunk Stripe on Plum Soft Waves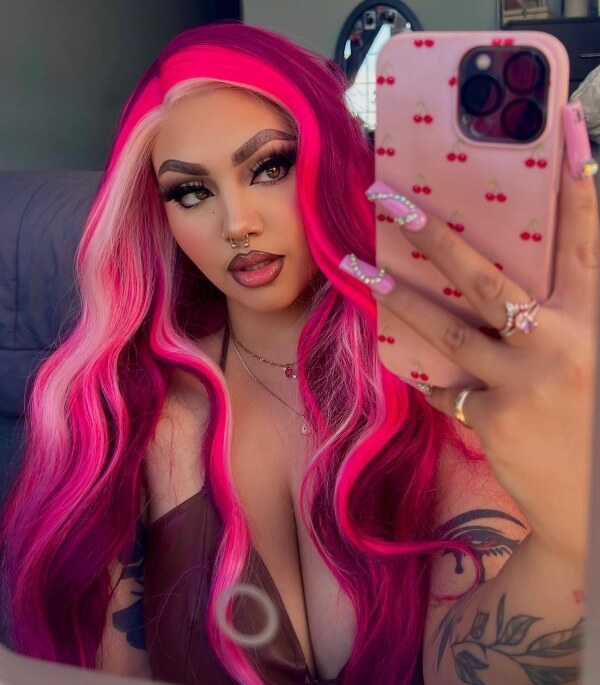 Speaking of unforgettable, there are a few edgy styles that can compete with a beautifully blended multi-color skunk stripe. Can't decide which shade of pink suits you best? Try them all, we say! Bring vibrant vibes with face-framing highlights that feature hints of both soft and hot pink. Notice how instead of surrounding jet black locks, this style showcases a warmer violet hue for a contrast that screams "rockstar."
16. Red Skunk Stripe Body Waves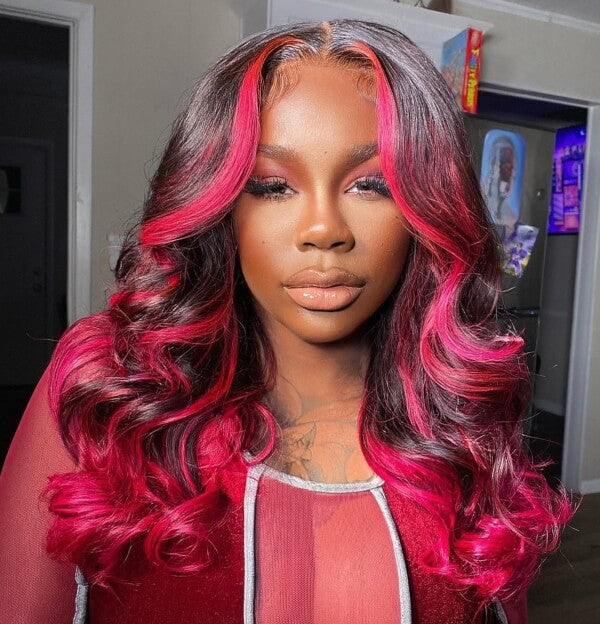 Red has always served as an amazing highlight hue, bouncing playfully off of cool, darker tresses with a spicy hot flair all its own. This is exactly why crimson is the ideal hue for a flawless skunk stripe! Notice how the vibrant strawberry blends seamlessly throughout the featured black body waves for an attention-grabbing finish. The fiery-tipped ends seal the deal - this look is definitely a scorcher and sure to bring the heat!
17. Candy Red Skunk Stripe on Black Zig Zag Coils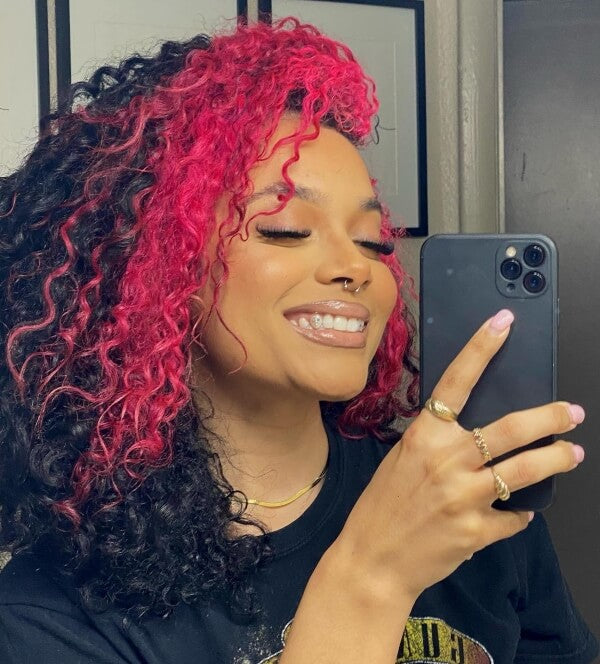 Songstress Rihanna is always seen turning heads with gorgeous shades of red in her mane, ranging from a deep plum to fire engine red tresses. As we've seen, highlights are timelessly gorgeous on natural locks as well. With such a passionate hue surrounding your face, your friends won't be able to help but love your fiery red skunk stripe swimming against a head of dark coils.
18. Ash Blonde Skunk Stripe on Ginger Loose Waves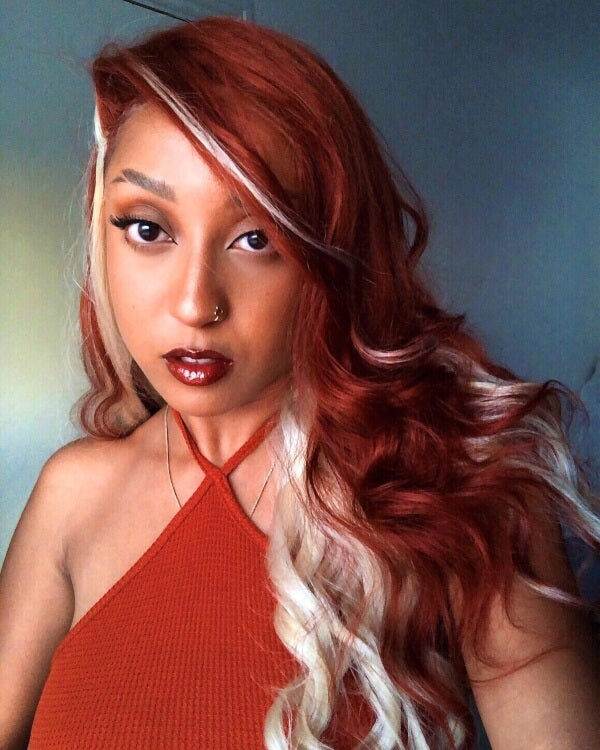 If you remember anything about the 90s, you know just how iconic Geri Halliwell's face-framing highlights were at the time. After all, with a name like "Ginger Spice," the hair certainly had to match! Similar to Geri's famous look, this style showcases lovely ginger-hued loose waves kissed by a fine hint of bright blonde in the front. Notice a heavier color block of ash resting underneath reddish-bronze tresses for a wowing peek-a-boo effect. Talk about "spicing up your life!"
19. Platinum Blonde Skunk Stripe on Burgundy Loose Waves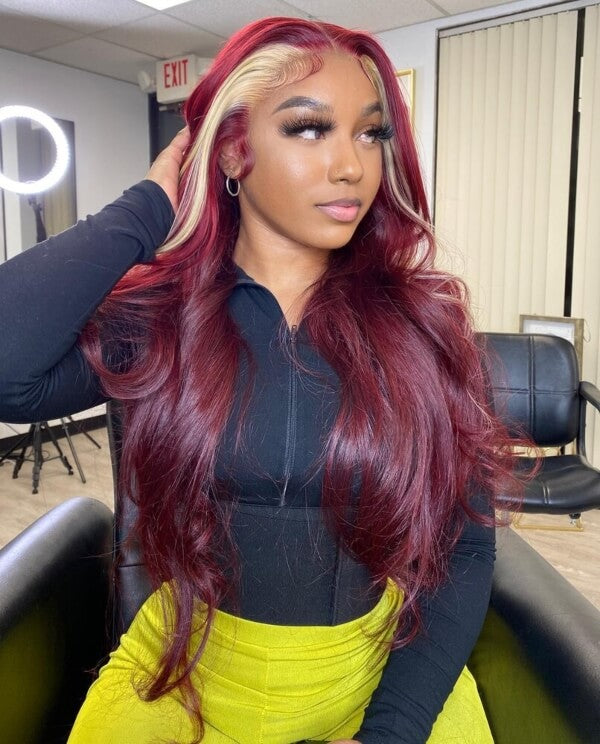 Anytime you decide to sport a head of voluminous 99 J-toned tresses, everyone knows you mean business! Paired with lengthy loose waves and a middle part that is spot on trend, this bright blonde skunk stripe is small and subtle, but effective. Leave two small highlighted areas near your face to seemingly brighten and widen your eyes.
Customize Your Skunk Stripe Hair Your Way with Lwigs
Since the 90s, these highlights have been all about tons of contrast and standing out from the crowd. Now that you're ready to rock your own skunk stripe, will you go for contrasting curtain bangs or colored layered strands? Will you keep it simple with one highlighted strand standing as the star of the show in an ocean of deep, dark waves?
No matter what you decide, the best way to keep your natural hair safe and protected from damage is to choose a quality lace front wig. Here at Lwigs, each unit is made using only 100% Virgin human hair. With professional quality HD or Clear Lace technology for the perfect meltdown, combined with measurements that are true to length and density, you'll enjoy a salon-inspired look with every delivery. Have a look at our highlight wigs and complete your look with the perfect skunk stripe today!