Product was successfully added to your shopping cart.
Details
Lwigs 360 lace wig is made by 360 lace frontal & bundles.
1> 100% Virgin Human Hair 360 Lace Wig
2> 6" Deep Parting, Can make High pony-tail, bun, and updos can be made;
3> No processed or chemically treated in anyway.
4> No shedding, No tangle
5> Can be curlyed, straightened and dyed to any color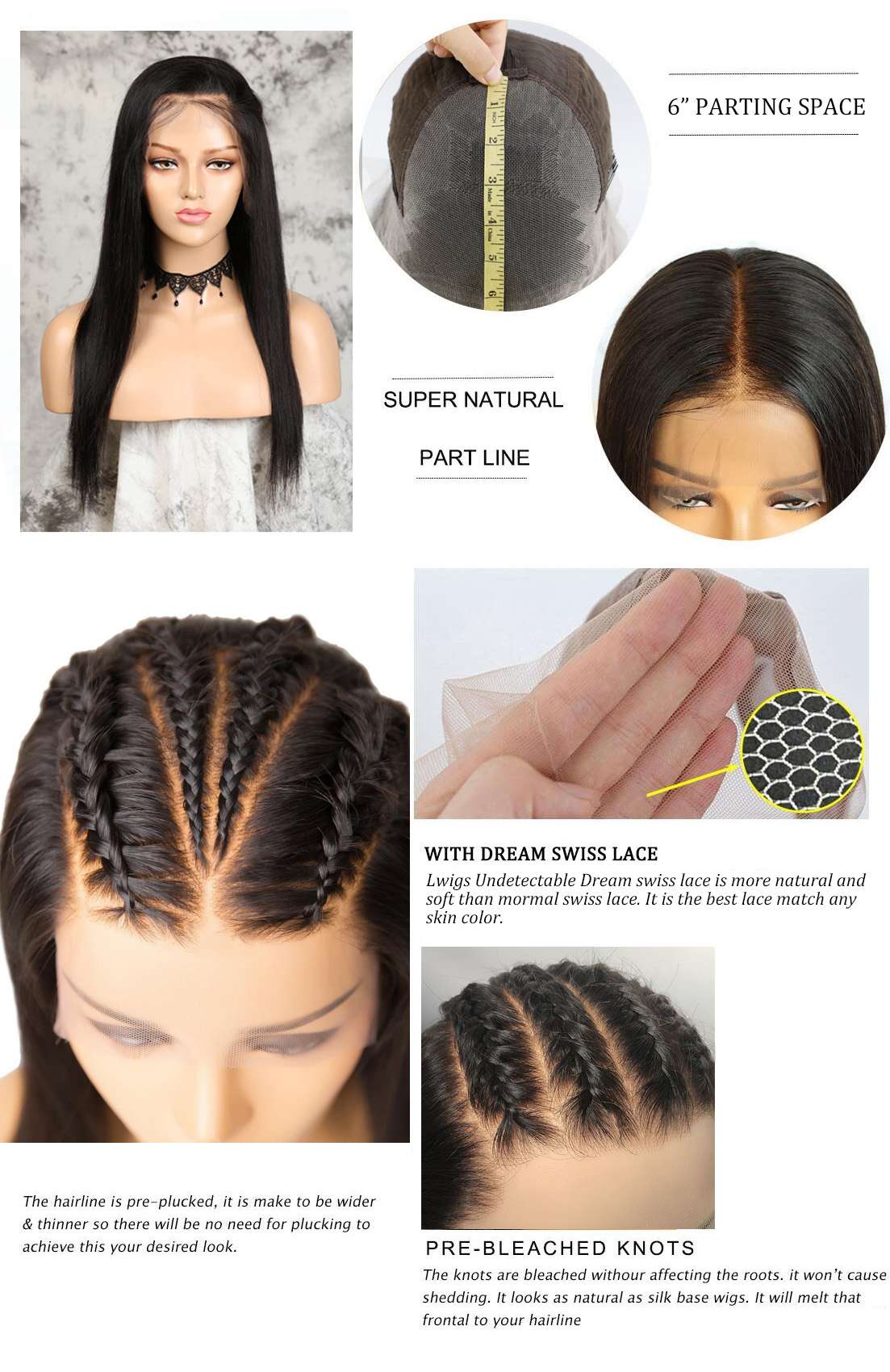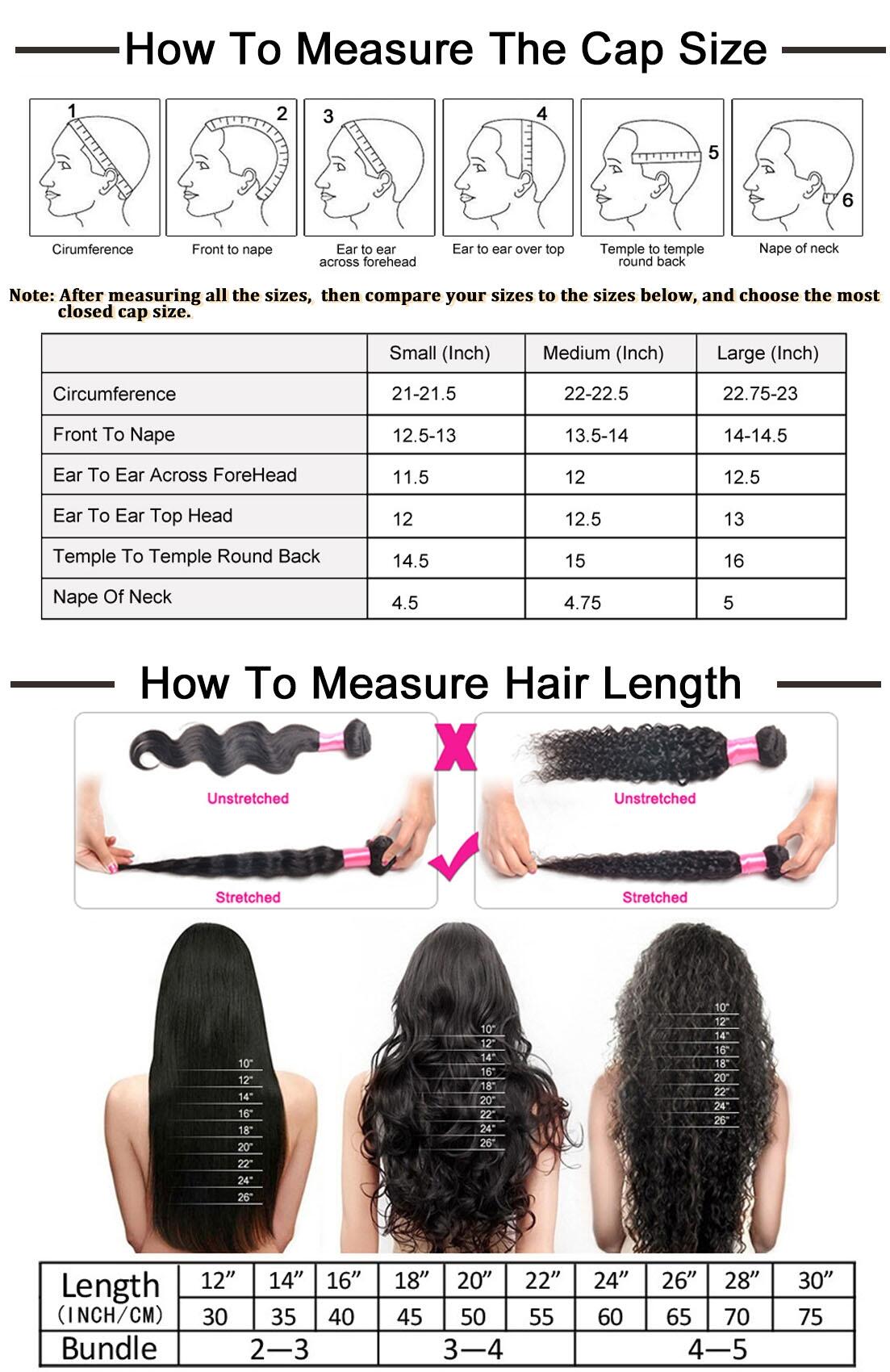 Shipping was fast

the hair doesn't shed and it's very soft. The shipping came in mad fast and overall I'll shop with them again

Soft

You're very soft and beautiful little shitty but overall I love it

Would buy from them again!

Hair is awesome, It also looks super natural!

Azael Hernández

on 9/3/2020

love the hair.

I will e ordering again the same one. never get the same hair style twice but it looks so natural I will order more. I can pull up and no bulk. hairline looks natural,even after washing!

I love the hair. The lace is HD so ladies/gentlemen do not try to bleach it!

I pluck it a little, but it does come pre plucked. The communication was great. Came in about a week. I've bought from them before, so I already knew I'd love the wig. Thank you so much.

I love it! it fit perfectly.

The length was what I wanted, no shedding so far after combing!That was really cool .I can tell that this wig is going to be one of my favorites because natural the look is!

It came BANG on time..Love everything about the product!

Smelled like the hair of a brand new doll... very soft !! do hold the curls well and natural looking! & there's barely any shedding or tangling. i will definitely be buying from them Again and again and AGAIN!

The wig looks good quality.

The package was well packaged and I had small gifts she arrived in 6 days in Paris. I will post other photos when I installed it. Thank you

The hair was amazing

The hair was amazing felt really soft no shedding no smell. Worthy purchase!


Will definitely be shopping here again

This hair is very silky there's no shedding nor any bad smell. It's true to length I love everything about it. It came very fast which they were very helpful with keeping in touch.

I love this wig!!

Beautiful curls when wet and dry! Sheds just a little but nothing annoying. very fast shipping! So many compliments! I'm most definitely shopping with you guys again! Thanks!

The seller was very helpful

The hair is so so soft! It's a perfect length for me and density is just right! I'm very happy with my purchase! I would definitely recommend.

It's very natural looking.

I love this wig. It is my everyday look and I received so many compliments on this unit. It's very natural looking. It washes well with minimal shedding.


What moved me the most was that the seller was very professional and fast response !!

She kept in contact with me to answered all my questions, also gave me a lot of help with logistics, product introduction and hair care. Besides, love it for the great quality and reasonable price!

Good hair , true to length .. price was affordable !!

The quality of the hair is the best i have received so far. The customer service is amazing.

The wig is very nice and it looks so natural very soft and pretty I really like this hair.

I absolutely love this wig i love the curly texture everything about it It is easy to manage no smell and min no shedding Also seller communication was quick & very helpful! I will be ordering from this vender again.

I love this wig so much!!

It is the softest wig I have ever purchased and hd lace on point. The lace blends very well with my skin. Natural hairline which blended beautifully with my hairline making it look super realistic!

The hair is still amazing

I ordered it in 27 and came on 30 and the hair is very beautiful and like silk and the seller is nice kept in touch with me the length of time and hair for 14 inches is on the shoulders as I wanted

Great!!!!!!!

Great seller, nice hair!!! my third time purchasing always pleased, recommend a lot of people here!!

I am so happy with this hair!

This shit goes CRAZY this is the first time I ever bought n installed a wing watch ALOTTT of YouTube videos ! N dont over pluck!

Nice wig,

came in time for my motive. I usually hate plucking but this wig is easy to pluck! Overall just a lovely wig, thank you. I got 18 inches and 180 density

This hair is amazing!!!!

It's so soft and pretty. I will be buying from this company again and I will be recommending people this hair

Curl pattern so pretty!! You won't regret this purchase.

This is a great vender. My unit came in 3 days to the states. Communication and customer service is amazing. I will order again soon. Most important the product was just as described. Thank you Lwigs!

10/10 recommend!

The seller was very nice and kept in contact with me the whole time until I got my wig!!!! Love it!!!!! customer service was great and the package came quickly. the wig is nice and full and well plucked.

Seller communicated with me very well. Would highly recommend!

Hair is very soft and nice. It came in 4-5 days and I have gotten plenty of compliments!

i would absolutely bye this hair again !

it came in less than a week . pre plucked , tented lace , and came with a nude wig cap . very pretty hair . i would recommend this hair !!!

OMGGG !!! best hair ive ordered from you guys!

it came unexpectedly fast ! the hair is very soft and bouncy. it came pre plucked with a tented lace . i got a 22 inch and it came with a natural hair color . trust me your money is worth the spend on this wig !!

THIS HAIR IS SO LOVELY!!

LOVE THE HAIR ITS SO GORGEOUS AND WORTH THE MONEY!! I will be buying the hair again soon! They customer service os excellent as well.. the seller stayed in contact with me.. thanks again

It's true to length, & it's everything I've ever wanted.

This package came in a cute black box! It was very nice. I'm definitely recommending "VIRGO" to my friends & telling them to purchase. Love this !! Can't wait to install! Ladies you better buy this good laceeee!!

Beautiful wig of beautiful curls but the smell is not pleasant. Thank you .

I love this wig this curls are beautiful and it's very soft the shipment came very fast 3-4 business days the seller keep in touch with me through the how process

I loved this wig I still have it and it's so bomb the lace is super transparent people thought it was my own hair!

I even no bleached it and the curls were still popping! Super easy maintenance with little to no shedding I swear! I was sketchy buying hair on here but I absolutely LOVE THIS VENDOR ! I didn't need to use a lot of product for this hair just water really, usually curly hair is poofy when dried but not this hair it looked /felt so soft and bouncy and silky for curly hair I did straighten it and it was flowing like my own ! I forgot to mention the density is good !

Honestly..this hair is great.

Its soft , low maintenance and fast shipping. I ordered the hair on Friday and got it on Monday. It looks great. Wet, dry, combed out..everything

The hair is super niceeeeee!

My stylist did so well with it! Girl buy this hair It's amazing soft and all and doesn't even tangle like that and it's affordable! Thank you

Loved the hair!

This wig is very soft and beautiful I highly recommend it!!

love Love Love this hair soft /light/ no bad smell / no shedding so far even when wet/combed .

Came 2days before it was scheduled! Seller was amazing communication was amazing ! Also came with some gifts like wig cap.

Hair is true to length.

Wigs are excellent quality. Great seller. Will keep ordering from this vendor

will be purchasing again from this vendor

Absolutely love the wig case very fast and will be purchasing again from this vendor

The hairline looks so real.

I combed it and tried it on. I haven't washed or installed yet but will update when I do.The hairline looks so real.

Omg this hair is so beautiful.

I'm very satisfied with the hair and the time in which it was delivered. Shipping was fast. Communication with the seller was great.

very amazing and soft hair

very amazing and soft hair I love it alot and loves very natural. not alot of work needs to be done it's great for beginners. thank you

deserves 10 stars

I am very happy the hair is soft and the wig is so full ..... next time I will buy it longer the seller Vivian is fantastic girl ..... deserves 10 stars

I Love the wig!

I Love the wig! One of My fav .. the Hair is so soft and i Love the Communication with the Service

Hair of very good quality.

Hair of very good quality. This is the 2 th time I order with this seller always satisfied. Communication with the seller very well

Thank you soo much for the wig ,

Thank you soo much for the wig , I love it so much , it is so thick and natural ! I would love to model this hair for you it is great

I LOVE this hair!

I LOVE this hair! by far the best curly hair i have had. looks better in person than presented on the site. it is very soft, no tangling, and VERY minimal shedding. would recommend and will definitely purchase from this vendor again. shipping was very quick, 3 days.

The wig is just as beautifu

The wig is just as beautiful as the photo on the listing. Very soft hair and the hairline looks great!

I love it very pretty

great quality for the price,very satisfied with the product and great costumer service and communication.!!

I'm so in love with this hair

I'm so in love with this hair that I bought so many, I can't wait to install it

the density is exactly what i was looking for

Lenght and density are accurate, no smell, it doesn't seem to tangle or shed.very satisfied with the product and great costumer service and communitcation .the density is exactly what i was looking for

very beautiful hair great texture

very beautiful hair great texture,the hair is absolutely amzing .I get compliments all the time itis my hair but think I dyed it

I am very likr it!!

I am very likr it!!!!!!!!!!!!!!!!!!! so perfaly,the I honestly love this hair this is my second time ordering from them,seller is amazing reliable excellent customer service as soon as i install my wig i will let you know about the quality

The wig is very accurate

The wig is very accurate the seller was really helpful during the process,most defintely will be ordering from this company again.

I Absolutely love this wig .

I Absolutely love this wig . Shipping was extremely fast it arrived in 3 days .It is a middle part and it's literally beautiful .. the hair is soft and it doesn't shed badly at all .

I Loooove This Hair!

This was my first experience with a 360 lace wig. I've had this hair since February and she's still being good to me! Even through the shedding, she still looks a FULL, still washes and conditions with ease. In between washes I just use water and a leave in coconut, argan oil conditioner.. ...and she performs amazingly!!... I will be purchasing another unit soon!

Beautiful wig

Love this hair. Will always buy again.

LOOOOOVE IT

I LOOOOOVE IT. I WAS IMPATIENT BUT THEY CAME THROOOUUUGGGHHH!!! AHHHHHHHHH

Fast Shipping

Omggggggggggggg I love this wig so much! Best wig I have ever ordered I love the hairline it's so natural! Fast shipping ordered on Friday was delivered on Monday but I wasn't home. Love love love this hair it's perfect !

love this HAIR

love this HAIR

5 stars!!

Love the hair !! I definitely will be ordering from them again! Definitely 5 stars!!

so beautiful

This Hair Is Beautiful Soft Everything I Recommend U Can't Go Wrong With This Wig!

Best Lwigs!

it just gorgeous quality waouh is amazing. fast free was too. best seller. the quality is amazing. i am very happy. best for the best i like to buy more. thanks

Soft hair!

It's soooo soft. I just added water and this Cantu product and the curls are popping!

Perfect purchase!!

I am super happy for my wig this hair is so soft and beautiful l love it

Nice

Nice one! just like I expected. I love the hair. The speed of delivery was... wao!

Nadia Elizabeth

on 5/1/2018

Unbelievably beaufiful

I've had this hair for three months now and it is still going strong and looks amazing!! Ordering was smooth and seemless and I am extremely pleased with unit..

Hair does shed a bit but I believe this is perfectly normal for curly hair.. Everyone thinks this hair is growing from my scalp. I'm a happy customer and will be ordering from this site again.

Love

I ordered 18 inches, natural hair color, with the dream lace. This is my first 360 wig and i love it! I ordered a medium cap that's to big. I'm purchasing another 360 in a different curl pattern and I'm going to try a small cap.

absolutely perfect

The best hair I have ever had, very full, great customer service. I give him 5 stars . I bleached my knots and tinted my lace because I'm dark skinned it more natural if you do that. So convenient goes perfect with my lifestyle in school.

Review

The hair is so soft the curls are amazing. The lace is great I don't have to do much customize it!!!

Deep wave

I have ordered 2 of these wigs and both are very beautiful,the curl pattern is very natural looking ...I'm about to order another.

Lwig195

what I expected at all!! Curl pattern very nice looks like a kinky texture the deep curl pattern as pictured. It look like the wig I ordered.

Awesome hair!

Awesome hair! Sheds a little but not a lot, I will be ordering another. For proper maintenance I used lwigs products along with a leave in conditioner and coconut oil

The hair is very soft, full and true to length. I love it!

I absolutely love this hair! the seller was really nice and she kept in contact with me, which is very pleasing. The hair sheds a tiny bit, but it's curly hair so i guess that's normal. The hair is very soft, full and true to length. I love it!

It is a 360 full lace wig so automatically

I placed my order last Friday, I received Wednesday. saler kept me up to date on everything!!! she also gave me reassurance that the wig will last me a long time and that this is a safe reliable purchase. the 360 lace wig hair is heavenly. it's a beautiful curl pattern, and when put into a bun is even more curly when taken down. this hair is beautiful. the burn test proved it to be real human hair!! fyi, it is a 360 full lace wig so automatically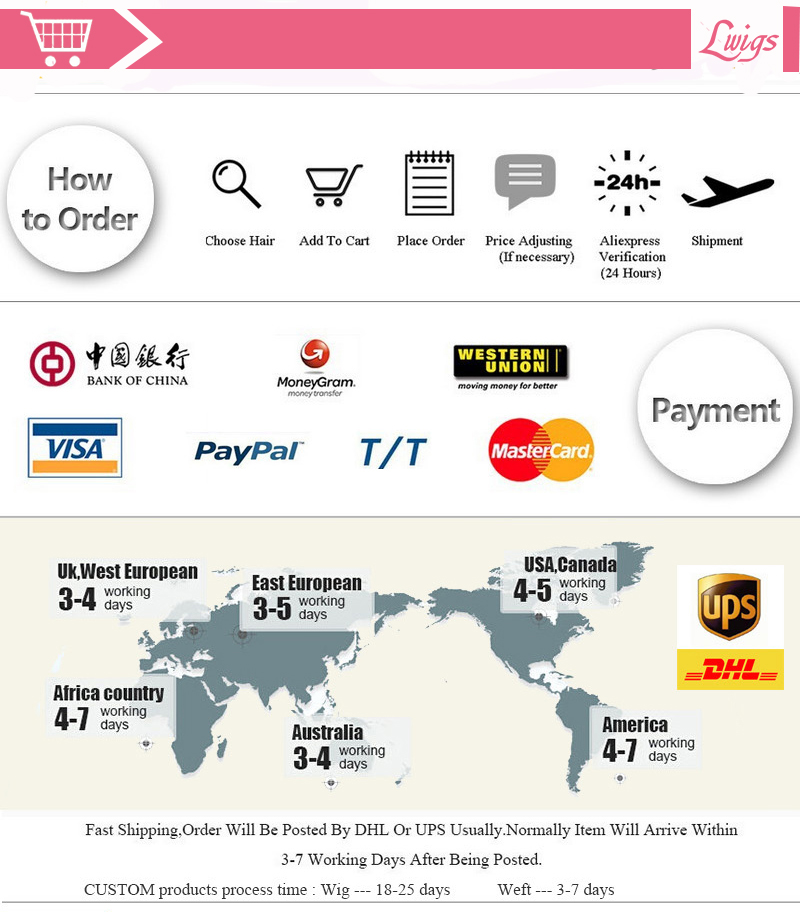 How to Return?
Only eligible wigs(Including no lace cut, no damage, unwashed, no hair cut, no hair dye, no altered, etc) can be exchanged. If you want to exchange it, please contact us in 7 days upon receiving goods. Any request after 7 days will not be honored.
Please contact us first about the problem you met, we will try our best to solve your problem. If your problem can't be solved without return, we will be happy to accept it and add your name in our return system. Return without communication will be rejected.
Return Policy
We gladly accept returns on all eligible products. Chinalacewig do not sell refurbished or previously owned products and return postage is on buyer.
Products must be returned to us within 7 days from the day it was authorized for an exchange. After 7 days we will assume that the product is satisfactory and no exchange is necessary.
Once the restocking fee is applied, any balance remaining will be refunded to the PayPal account submitted with your original order.
Human Hair Care Info.
Human Hair wigs are the premier choice if you want versatility and luxury. Human hair is soft to the touch and can be styled in endless ways. Due to the high demand of quality human hair, human hair wigs are also the most expensive type of wig you can buy. This is why it is so important to use the right products and the proper techniques to care for your human hair wigs. Wigs made with human hair can last a long time, much longer than synthetic wigs. However, using the wrong care products or washing techniques can drastically reduce the life expectancy of your human hair wig.
How To Wash A Human Hair Wig
Put the hair into the warm water( no more than 95 F) ,and soak the hair;
Apply mild shampoo and wash the hair;
Rinse the hair in the water;
Soak the water with the towel,apply conditioner to the hair and wait for about 2minutes;
Rinse the hair in the clean water.Bring a basin of the clean water and rinse the hair again;
Squeeze the hair gently;
Soak up the hair with the towel;
Air.dry the hair with opening the weft.
Curly wigs washing tips:
Do not brush your curls.
Comb conditioner through your hair while washing, towel dry and style it with your fingers to prevent frizz.